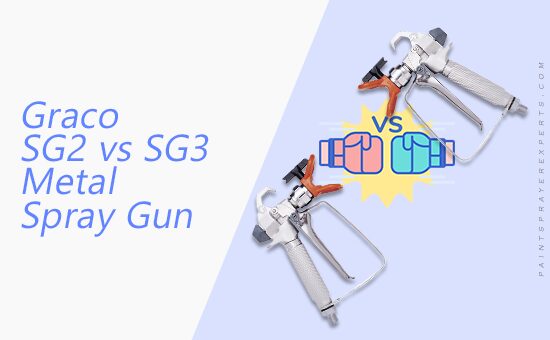 Graco SG2 and SG3 are probably two of the best airless sprayer guns money can buy. Coming from the same metal spray gun series, they inevitably possess numerous similarities, but there are also a few differences that can have an impact on your future paint jobs.
"So, which one should I choose?"
Well, that's where it gets a bit tricky. To make things easier for you, we'll be conducting an in-depth analysis of both spray guns, taking a look at each of them individually, and then examining their similarities, differences, and the pros and cons of each.
Ready? Let's do it!
Graco SG2 Metal Spray Gun
One of the most beloved airless spray guns out there, the SG2, enjoys the privilege of being the oldest and more affordable of the two. The price difference, as we explore further below, is not exaggerated, but is nonetheless worth mentioning.
Graco SG2 also has a solid reputation for reliability, customer satisfaction, and durability. We've listed a few of its featured below.
Graco SG2 Features
Includes True Airless 515 Spray Tip, Spray Tip Guard
Orifice size: 0.125 inches
50 mesh filler
RAC IV hand tight guard (for safety)
4-finger trigger
Lighter trigger pull than its competitors
Maximum fluid pressure: 3600 psi
Gun weight: 22 oz
Compatible with: Magnum Project Painter Plus, Magnum X5, Magnum X7, Magnum ProX17 Stand/Cart, Magnum ProX19 Stand/Cart, Magnum ProX21 Stand/Cart
Compatible with all paint materials
Graco SG3 Metal Spray Gun
Graco SG3 is the newest and upgraded version of the SG2. It possesses all the features of the SG2 and some more, such as reducing hose twisting and providing a better paint job than its predecessor.
We've listed a few of Graco SG3's features below.
Graco SG3 Features
All of the SG2 features
Includes also Smooth Glide Swivel
Handle filter
Optimized for efficiency and comfort
Reduces hose twisting
Similarities between Graco SG2 and SG3
Coming from the same line, these two products share quite a few similarities.
Manufacturer
When comparing two Graco products, you know it will be a tough fight.
Graco is a company with a great reputation, known for its build quality and innovation. There's no doubt that Graco makes some of the best sprayers and spray tools out there on the market today.
They also place great emphasis on the ease of use and comfort. There's no questioning why this brand is a favorite among painters.
Fundamental similarities
Apart from having the same manufacturer, Graco SG2 and SG3 also share a few fundamental similarities. For instance, both devices make use of the Graco Magnum airless system, one of the best on the market today.
They also both come with the same four-finger trigger, the same guard locking mechanism, and share almost an identical design.
Compatibility and comfort
Furthermore, both devices are built with comfort in mind. They are easy to use, easy to clean, are perfect for practically any paint job with any paint type, and can be mastered easily by most DIY painters.
Price
Both SG2 and SG3, as mentioned earlier, make use of the Graco magnum sprayer system and are sold separately from it. The price of both is quite on the higher end but is not considerably different from each other.
Differences
Here we're going to be exploring some features and functionalities where the SG2 Metal Spray Gun is different from the SG3.
Price
Yes, we've listed it as a similarity and yes, now we're listing it as a difference. It was listed as a similarity because both prices are considered pricier than other spray guns, which can be cheaper but can't be compared to either the SG2 or the SG3 in terms of build quality and functionality.
That said, the SG2 is cheaper than the SG3, and since affordability is relative anyway, it may be a good choice for those who want to spend less.
Gun control while spraying
Both sprayers give you great control while spraying. This could have very well been a similarity rather than a difference, but thanks to the fact that the SG3 has been made a little more comfortable to use than the SG2, we had to chalk it up as an upgrade.
Customer Reviews
When it comes to customer reviews, both the Graco SG2 and SG3 are well-loved and well-reviewed by customers across all marketplaces.
The reason for this is simple; Graco is quite a popular brand and the products do what they're supposed to do at a very high level of accuracy.
Many buyers praise the ease-of-use of both products, which is kind of the unofficial trademark of Graco. Most of them are not professional painters, so they're looking for a spray gun that fits their needs, and it looks like both the SG2 and SG3 are a perfect choice.
Some users single out the ease of maintaining both products as their favorite part, which isn't surprising. Those who are familiar with airless paint sprayers are aware that cleaning and maintenance are the toughest parts, and once you get your hands on a device that is both easy to clean and maintain, it's hard not to show full-on appreciation.
Finally, an aspect of both products which is also mentioned many times by verified customers is versatility. The fact that you can make use of these guns with pretty much any material, from latex to oil paints, primers, stains, and varnishes without any issues is a big pro.
All things considered, when it comes to customer reviews, both products are highly praised.
Obviously, by now, it's clear that there isn't any clear-cut superiority between these two amazing spray guns. In the end, one could say, it all boils down to what you prefer.
The truth is, Graco SG3 Metal Spray Gun is just an updated version of the SG2. When we first tried the SG2, we asked ourselves how can they upgrade this already great spray gun, but Graco managed to surprise us, again.
Considering that the difference in price is not sky-high, we suggest you buy the SG3 Metal Spray Gun. However, if you already own the Graco SG2, there's no need to buy the SG3.
Either way, thanks to similarities in features, comfort, compatibility, and design, you're just as safe going for either of them. One thing's for sure: both devices are customer-favorites.
Another win for Graco.