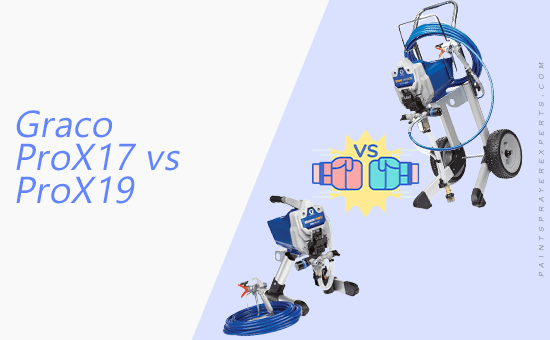 The Graco Magnum Series has always been a customers' favorite line with a wide range of units, starting from the lower end with the Project Painter Plus, the X5, the X7, and on the higher end standing the ProX17 and the ProX19.
Both the X5 and the X7 have always been very reliable units for medium-sized projects, no surprise they are bestsellers, but what if you need something more powerful and more durable to withstand bigger projects?
There's where the premium models of this line come in handy; the Graco Magnum ProX17 and the ProX19.
Let me tell you they are both exceptional pieces of machinery that are capable of withstanding large DIY projects professionally, saving you time and money.
Because they are very similar but come with a price difference, we often hear people questioning what the difference is between the Graco ProX17 and the ProX19.
If you're reading this article, chances are you've done the same question too. Thankfully, we have used both of the units for quite some time so keep reading below to find the answers you're looking for.
Without further ado, let's start this comparison article: Graco ProX17 vs ProX19.
Graco Magnum ProX17 (17G177)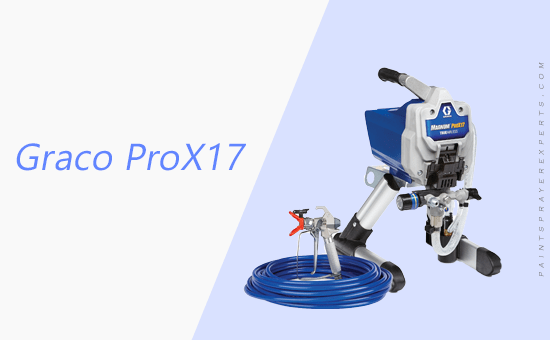 The Graco ProX17 is the smaller version of the Magnum Pro line. It's a stand unit with legs, small and compact, and weighs just about 32 lbs. We found it to be easy to transport and store.
The ProX17 is suitable for almost every interior and exterior paint, making it a good choice for a 3-4 bedroom house.
What about stains and oils? No problem whatsoever. The Graco ProX17 works like a charm even for deck works.
In the box, you get the unit itself, a 50ft long hose, a Graco SG3 gun, the fast flush adaptor, the RAC spray guard, a 515 airless spray tip, a bottle of Graco Pump Armor, a Fast Flush adaptor, a quick start-up guide, and the operation manual.
Graco Magnum ProX19 (17G180)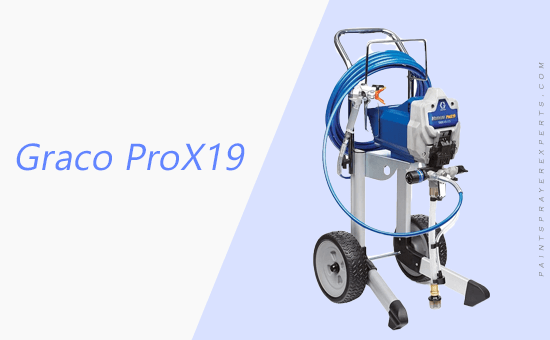 On the other side, we have the Graco ProX19, the bigger version of the ProX17. It is without doubt the most capable sprayer in the Graco DIY range.
It should be noted that the ProX19 is a cart paint sprayer, meaning it has wheels, making it easier to carry around. That's understandable, because it is heavier than the ProX17, weighing around 42 pounds.
Keep in mind that this unit is quite large. That can be a problem if you don't have much space in your car or your house where you're planning to store it. However, the unit has the option to reduce its size from 3 ft to around 2.6 ft for storage purposes.
We found the Graco ProX19 to be more than enough for a large 3-4 bedroom house if you plan to paint the interior the exterior, and ceilings.
Same as the ProX17, it can spray stains and oils with no problem whatsoever.
In the box, you can find the unit itself, a 50 ft long hose, the Graco SG3 gun, the RAC spray guard, a 515 airless spray tip, a bottle of Graco Pump Armor, a Fast Flush adaptor, a quick start-up guide, and the operation manual.
Similarities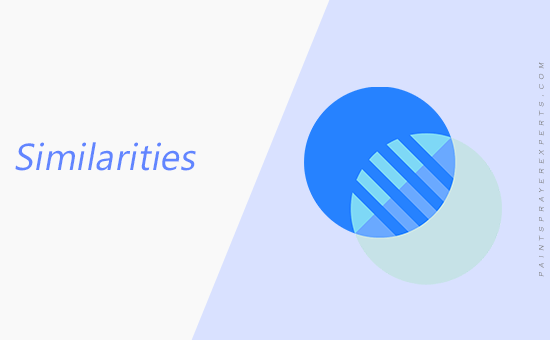 Needless to say, the Graco ProX17 and the ProX19 have so many similar features, so let's list some of them below.
They're both Graco Magnum's Premium units. Even though they're both on the DIY line, they have a wide range of spray capability and exceptional durability. We're talking about two very high-quality units from Graco here.
These units can withstand spraying up to 10 gallons of paint a day; more than enough for any home DIY project.
Both units are equipped with PushPrime, which is a button that you press when the unit for whatever reason is not priming correctly. All you have to do is press the button a couple of times while priming to free up the ball.
Another great feature that you can find in both these airless paint sprayers is the ProXChange Pump. In the previous models, if you had any problems with your pump, replacing it was not only hard but also very expensive. You basically had to replace the whole pump or call it a loss and throw the unit away.
With the ProX units, however, replacing the pump or the pump's components is so easy that you can do it yourself. You just have to pull the lever up and the pump slots out. Then, you can replace the top section or the lower section of the pump depending on the situation. How cool is that?
Both units come with a 50 ft long hose, which can be extended up to 150 feet with no impact on performance whatsoever.
It's worth mentioning that none of these sprayers are made for thicker paint materials, so they're not suitable for roofing membranes, texture, or solvent-based paints.
Differences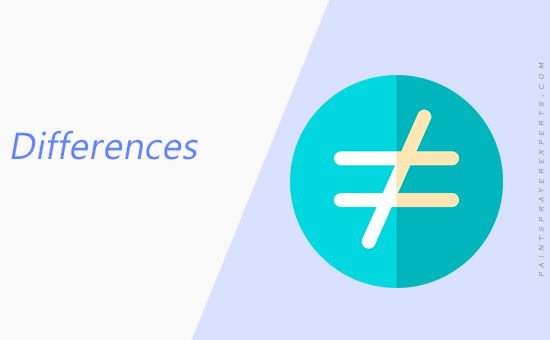 Now that we discussed the similarities between the Graco ProX17 and the Graco ProX19, it's time to talk about their differences. I warn you there aren't many, but depending on the circumstances and your personal preferences, can be decisive in choosing one over the other.
Configuration
As we mentioned above, the Graco ProX17 is a stand unit with legs, lighter and more compact, compared to the heavier and taller cart mount ProX19.
We're not talking about a huge difference here, but it's still something worth mentioning.
Motor size
Here probably lies the biggest difference. The Graco ProX19 has a bigger motor size, capable of spraying around 500 gallons of paint a year, while the ProX17 can spray up to 300 gallons a year.
The numbers above are the recommended annual usage. If you take good care and do regular maintenance to your device, the actual annual usage can exceed those numbers with no problems at all.
Max flow rate
The Graco ProX17 has a maximum flow rate of 0.34 GPM (gallons per minute), whereas the ProX19 has a max flow rate of 0.38 GPM.
Max tip size
The max tip size for these units is 0.017 in and 0.019 in for the ProX17 and the ProX19 respectively. Based on these numbers, you should be careful when choosing the tip size for your project.
Price
As you can guess, the ProX19 is slightly more expensive than the Graco ProX17. Whether it's worth the price difference or not, we'll discuss it below.
Graco ProX17 vs ProX19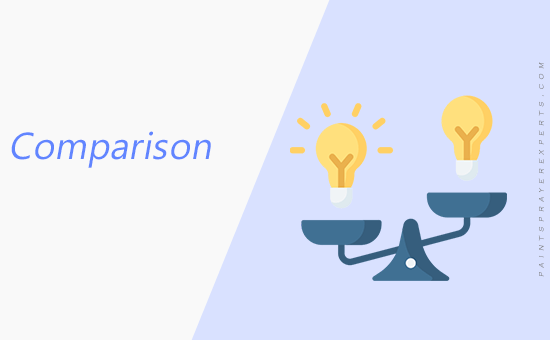 Now that we discussed the similarities and the differences between Graco Magnum ProX17 and ProX19, let's talk a bit about which one is better.
The short answer is: Whichever suits your needs best!
As you may have guessed already, these two units have so much in common and their differences are so slight, that you will probably be fine choosing either one.
If you need a smaller unit that is easier to transport, and 300 gallons of paint a year are enough for you, go for the Graco ProX17.
If you need a cart unit with wheels for which you have enough space to store it and transport it, you plan on using around 500 gallons of paint a year, and you don't mind spending a bit more, we suggest you choose the Graco ProX19.
And that's it! The other differences are so slight that probably won't make much of a difference.
However, if you're still unsure and you need a more clear answer, we suggest you choose the Graco Magnum ProX19. The reason is simple: You get the better version with a slender difference in price that in the long run will pay for itself.
Conclusion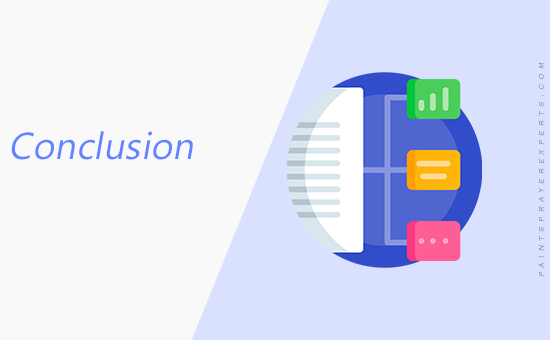 We talked so much about the comparison between these two airless paint sprayers that we almost forgot to tell you about how great both of these units are. There's no arguing that Graco makes exceptional paint sprayers, but with their ProX line, they went above and beyond.
We used both of them for a long time, especially the ProX19, and the performance on both of them is outstanding. We had zero problems with these units, and after some heavy use, they still work as on their first day of operation.
We all know how much costs contracting a company to paint an entire home, and we all know how tiring and time-consuming is to use rollers and brushes, so do yourself a favor and buy one of the paint sprayers we suggested above.
This was all for today's post on Graco ProX17 vs ProX19.
Hope this comparison was useful for you.
We have also included some frequently asked questions below, so don't forget to check them out.
If you have any more questions, don't hesitate to leave them in the comments below.
Cheers!
FAQ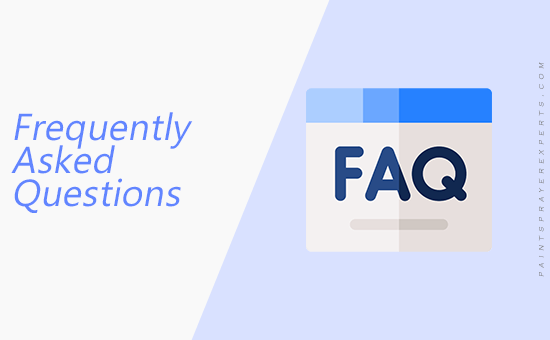 Does the Graco ProX17 or ProX19 work with solvent-based paints?
No. These airless paint sprayers are compatible with non-flammable coatings that can be cleaned with water or mineral spirits. Never use flammable coatings on a paint sprayer!
Which tip is more suitable for the ProX17 and the ProX19?
Always check on the back of the can what tip size is recommended by the paint manufacturer.
Don't forget that the maximum tip size for the Graco ProX17 is 0.017 in, and for the Graco ProX19 is 0.019 in.
Are the ProX17 and the ProX19 airless paint sprayers?
Yes, both of these units are airless paint sprayers.
Do I need an air compressor to use the Graco ProX17 or the ProX19?
Because both of these units are airless paint sprayers, you do not need an air compressor in order to use them.
Can I use the ProX17 or the ProX19 for automotive paint?
We do not recommend an airless paint sprayer for automotive paint. An HVLP is better suited for that kind of job.