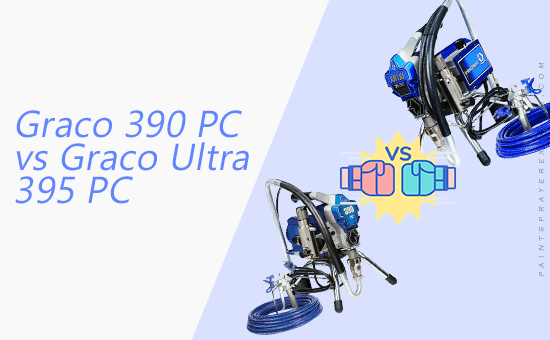 Today's comparison is an interesting one because we will be comparing two airless paint sprayers, both from the same company and also very similar at first glance.
Even though there are big similarities between these sprayers (sorry for the spoiler), this comparison has been requested for a long time, maybe because of the price difference (*Britney Spears voice* – Oops, I did it again!) so we decided to give it a shot.
We will be comparing Graco 390 vs 395. If you want to choose one of them but you're unsure which one, keep reading until the end because we will try to answer some of your questions, such as:
their similarities
their differences
why there's a difference in price
which one is better
which one suits you best
Ready? Let's go!
Graco 390 PC Airless Paint Sprayer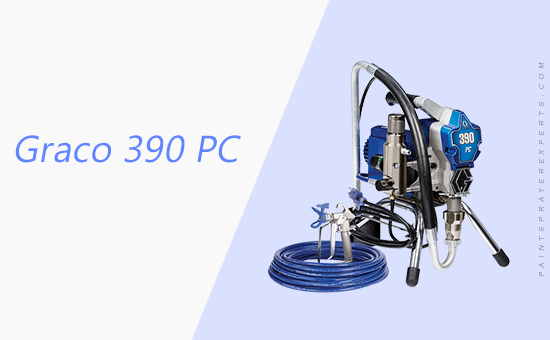 The Graco 390 is a solid machine for everyone who wants to dive into professional paint spraying without breaking the bank. If you're just starting, the Graco 390 is hard to beat.
Specs
Horsepower: 0.63 HP
Operating Pressure: 3'300 PSI
Flow Rate: 0.47 gal/min
Max Tip Size: 0.021 in
Included Gun: Graco Contractor
Included Hose Length: 50 ft
Features
Pump
Graco 390 is equipped with the Endurance Pump, which is known for its durability, reliability, and built quality. Rest assured that this pump will last you for years. Personally, I have yet to see another company that produces such durable pumps.
Also, thanks to the QuickAccess intake valve, cleaning it is faster and easier than ever before.
Moreover, thanks to the ProConnect One-Part Pump Replacement System, in case the pump wears out, you can easily switch it for a new one, with no extra tools or parts needed.
Clogging and Maintenance
The Graco 390 is also equipped with the Easy Out Pump Filter, otherwise called the inside-out filter, which makes this device less prone to clogging, and even if that happens, removing and cleaning the filter is effortless.
The filter is in a vertical position, so it won't spill everywhere when you remove it.
Built Quality
The most important parts of the Graco 390 are made with hardened steel. Even though the outer layer is made of plastic, the inside of the machine is of great quality, making it extremely quiet and long-lasting.
Graco Ultra 395 PC Airless Paint Sprayer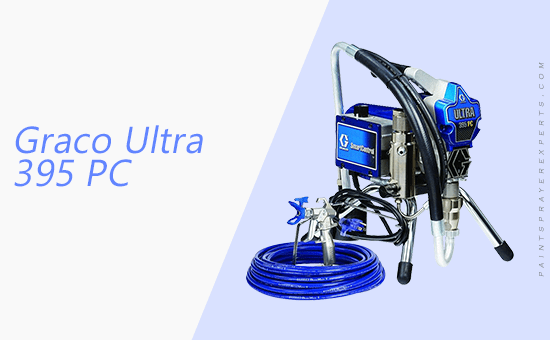 Graco 395 is the newer and updated version of the Graco 390. If the above features still haven't convinced you, let's see if the Graco 395 has what you're looking for.
Specs
Horsepower: 0.88 HP
Operating Pressure: 3'300 PSI
Flow Rate: 0.54 gal/min
Max Tip Size: 0.023 in
Included Gun: Graco Contractor
Included Hose Length: 50 ft
The Graco Ultra 395 PC has all the features of the 390 PC with some additional ones.
Extra Features
Improved Motor
The Graco 395 has a high torque TEFC DC Motor, which produces much more power and helps you get more work done.
Electronic Pressure Control
This device is equipped with SmartControl, which continually monitors the performance and adjusts automatically the motor speed to match your tip size and your style of painting, giving you a much smoother, flatter, and more responsive spray pattern.
Improved Spray Gun
The Graco Ultra 395 comes with the new Contractor PC Spray Gun, which is the updated version of the old Contractor Gun. It is lighter, easier to use, has adjustable trigger length, and can be easily rebuilt with no tools.
Similarities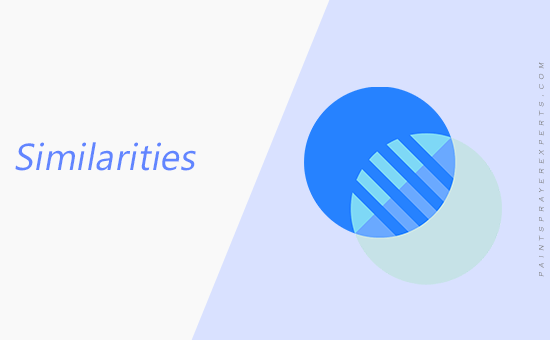 Both the 390 and the 395 are part of the Small Electric Sprayers Series of Graco. They are considered entry-level devices of the Professional Line of Graco's Electric Sprayers.
All the above features of Graco 390 are included in the 395, so we won't go over them again in this section.
Production Needs
Both devices are made to spray up to 50 gallons of paint per week. Pretty low compared to the other sprayers from the same line, which can spray up to 200 gallons per week.
The maximum hose length you can use on these two devices is 200 feet, which is more than enough when you take into consideration that both these sprayers are very lightweight and easy to carry around, so is unlikely that you will ever need more than that.
You cannot use more than one gun per sprayer but as we said, these are entry-level devices, so they are not meant to be used by more than one person.
Job Types
If you stay around the 50 gallons of paint per week limit, you can spray pretty much anything with these sprayers, but from our experience, both the 390 and the 395 are best suitable for small residential buildings, repainting, remodeling, and property maintenance.
Take into consideration that these are just estimated numbers, and you will probably be fine using them well above these limits. The worst that can happen is that you will do more frequent maintenance and repacking.
Materials
Something we do not suggest is using the Graco 390 and the 395 with materials that are thicker than the usual ones.
You can confidently spray lacquers, stains, interior and exterior latex, enamels, and acrylics. On the other hand, oil-based primers, block fillers, thick roof coatings, and similar thick materials, are a no-go.
Differences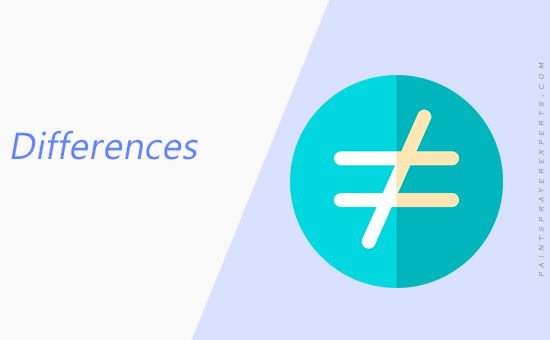 The differences between Graco 390 and the 395 are minimal, and they all come down to what Graco decided to upgrade on their Ultra 395 PC version.
Ease of Use
Even though these devices are considered "pro" sprayers, they are pretty straightforward to set up and use, even if you don't have much experience with paint sprayers.
However, because the Graco 395 comes with the improved Contractor PC gun, it gives you better control and tends to be more comfortable to use for jobs that require more work to complete.
Power
Thanks to the improved motor, Graco 395 produces much more power compared to the 390 and it gives you that extra oomph that you may sometimes need.
Performance
We noticed that the Graco 395 performs slightly better thanks to the Electronic Pressure Control, which really did help us achieve a smoother and more uniform pattern with less overspray.
Price
As we said above, both devices are part of the professional line of Graco, so they're pricier than the usual DIY paint sprayer that you may want to grab for a couple of jobs around your house.
Better features mean a higher price, that's how it usually works. Because the Graco 395 is an improvement of the Graco 390, it is a bit pricier, but in our humble opinion, it totally justifies the quality and the upgrade.
Final Thoughts on Graco 390 vs 395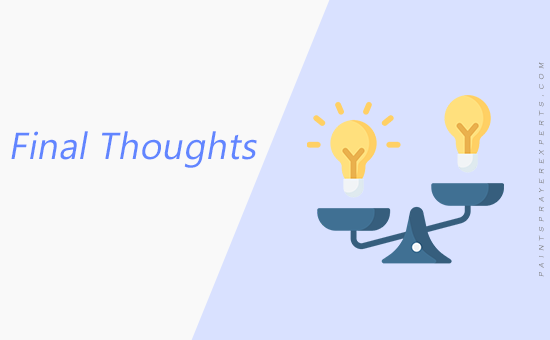 Now that this comparison review is coming to an end, it should be clear that the Graco 395 is slightly better than the 390.
Does this mean that you should immediately choose the Graco 395 over the 390? No.
Both are professional devices. Both perform exceptionally well for the kind of jobs they are made for. For the most part, you will be pleased with either of them.
We suggest you look at again the extra features that we mentioned above and if you really need your paint sprayer to have them, go for the Graco Ultra 395 PC. Otherwise, if you think you will be just fine without them, go for the Graco 390 PC.
One advice we always give is this: when in doubt, go for the most powerful device your money can buy.
No matter which one you choose, rest assured that you will have in your hands a solid device that will get the job done flawlessly and will last you for years to come, and pretty much will pay for itself. Graco is notorious for producing such high-quality paint sprayers.
This was all for our Graco 390 vs 395 comparison review. We hope we covered everything that you should know about these two great devices. If you have any other questions, leave them below.
Oh, we almost forgot to tell you that we have already covered a comparison of Graco Contractor vs Contractor PC Gun, which are the guns that the two devices come with. Don't forget to check it out.
Cheers!