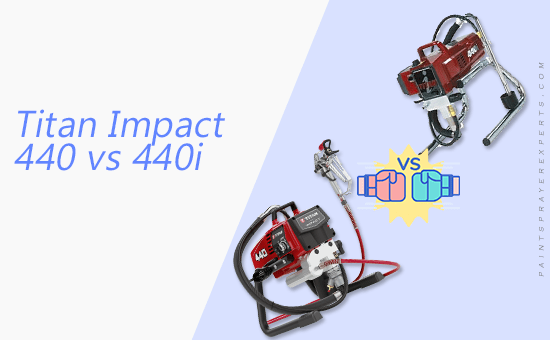 If you're serious about spray painting, chances are you have used the Titan 440 Airless Paint Sprayer in the past, or at least you know someone who did.
The truth is, the Titan 440i is probably one of the best airless paint sprayers ever created and in my humble opinion it was way ahead of time when it was first put on the market.
Titan released an updated version, called the Impact 440; a bold move indeed.
I remember a joke from years ago that I and my paint spray circle used to tell each other:
"We will have flying cars in the future, but we'll never have a better version of the 440i."
Never mind, it doesn't sound as funny as it once did.
However, the fact is that more than a decade later, we still don't have flying cars, but here we are, reviewing an updated version of the Titan 440i.
Is the new Titan Impact 440 better than the 440i or do we have to wait for the flying cars to consider that again?
Technical Specs
Max output delivery: 440i: 0.47 gpm (1.77 lpm) / 440: 0.54 gpm (2.04 lpm)
Max tip size: 440i: 0.021 in / 440: 0.023 in
Max operating pressure: 440i: 3200 PSI / 440: 3300 PSI
Power Source: 440i: 3/4 hp (0.75 hp) / 440: 7/8 hp (0.875 hp)
Weight: 440i: 32 lbs (14.5 kg) / 440: 35.4 lbs (16 kg)
Hose length included: 440i: 50 ft (15 m) / 440: 50 ft (15 m)
Titan 440i (the old version)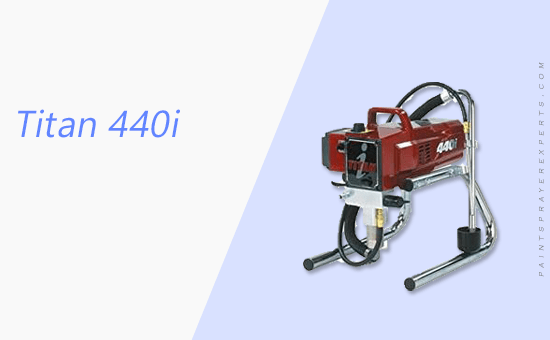 You're probably familiar with the Titan 440i or as I like to call it, the Swiss Army Knife of the paint sprayers. It was made to be used by everyone in almost any circumstance.
And people did use it, a lot! So much so, that back in the day, I could tell if someone nearby was using it by just hearing its typical noise.
It was indeed a well-built, durable, reliable, and most importantly, a fantastic performer.
Don't get me wrong, it still is, but I tend not to use it as much as I once did, and I tend to talk about it in the past tense apparently.
Below, I'll explain the reason why the Titan 440i is not a "dumb reach" for me anymore.
Titan Impact 440
And the reason is the introduction of the new Titan Impact 440.
I'll be honest with you: The only reason I bought the Titan Impact 440, is to prove to anyone that there will never be a better version of the 440i.
The only thing I managed to prove was that that statement was the stupidest proclamation I ever made in my whole life.
I was blown away right from the first use. I was so angry I was wrong but also ready to cry tears of joy because I found my new favorite paint sprayer. Just like a kid, who finds a toy and hides it under his bed so his friends won't steal it.
But I'm an adult, so I ate my words and told everyone I was wrong.
Titan 440 vs 440i
If I had to finish it in just one sentence, I'd say that the new Titan Impact 440 is like taking the 440i and making it 100 times better, but I know you're here for the detailed comparison so I'll go a bit more in-depth than that. I promise I'll keep it short but inclusive.
Power
The maximum operating pressure of the Titan Impact 440 is 3300 PSI compared to 3200 PSI of the 440i. The difference in power may not sound like a lot, but you will surely feel it if you need to use a longer hose.
Also, thanks to the bigger output delivery, the Titan Impact 440 will finish a job much faster than the 440i.
Lubrication
Titan introduced a revolutionizing way to oil the device, called the AutoOiler. They basically added an oil reservoir with a knob that you can fill and press anytime.
Considering the fact that you should lubricate your paint sprayer after every 10 gallons of paint or so, this feature really comes in handy.
Pump valve
If your old 440i ever got stuck especially when using heavy primers, let me tell you, you're not alone. It was a known problem for all of us 440i lovers.
Titan thought of making our lives easier by introducing the Sureflo, which is a button that you press in case any impurities get caught.
That button will free the lower ball to allow the filter to catch any debris that got on its way.
Main filter
Cleaning and changing the main filter now is easier than ever. In fact, it's so easy that you'll catch yourself cleaning it more often than you have to.
Suction filter and holster
Titan reduced the size of their Impact 440 suction filter in order to fit into a 5-gallon bucket fill opening.
Also, they made the suction holster taller, so now it's much easier to remove the sprayer from the bucket and move it around.
Two small but nifty details from Titan.
Weight
Even though the Titan Impact 440 weights considerably more than its predecessor, they made a good job in distributing the weight more evenly using more plastic parts around the pump.
Noise
Remember when I talked about that characteristic sound the old 440i made?
Well, that's not the case anymore with the Impact 440, which is much quieter than the 440i and only when you're pressing the trigger.
Conclusion
If you own neither of them and you're unsure which one to buy, I say go for the Titan Impact 440. The reason is simple; you have all the best qualities of the old Titan 440i mixed with some present-day and helpful elements, making this device one of the best airless paint sprayers money can buy.
I know that the Titan Impact 440 isn't one of the cheapest paint sprayers you can find, but the quality-price ratio is par to none.
Hope you enjoyed my Titan 440 vs 440i comparison. I could talk about these two devices for hours, but I promised to keep it short, so there you have it.
The Titan Impact 440 has also made it to our list of the best airless paint sprayers. Don't forget to check it out.
Cheers!