9 Best Airless Paint Sprayers in 2022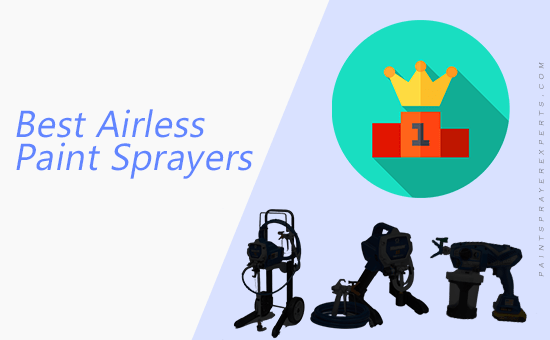 Airless paint sprayers are incredible pieces of machinery that are considered by many to be the one and only solution to paint jobs.
In this context, airless means that whatever paint or material you choose to use won't be mixed with any air, which is great.
Besides that, airless paint sprayers allow you to cover large surfaces in a short amount of time, making your life much easier.
Additionally, most airless paint sprayers come with an adjustable nozzle, enabling you to customize it whenever depending on your needs. With a good airless paint sprayer in your hands, you can paint any room in your house in less than 15 minutes, without leaving any mess.
So, if you're on the lookout for a brand-new paint sprayer, then we recommend you get an airless one.
In order to help you pick one for yourself, we're going to go over what we deem to be the 9 best airless paint sprayers nowadays. Additionally, we've included a thorough buying guide for you in case you feel like straying away from our list and picking on your own, which is totally fine.
Best Airless Paint Sprayers – Our Picks
1. Graco Magnum X7 Airless Spray Gun – Overall Best Airless Paint Sprayer
Our pick for the overall best airless paint sprayer in the market right now, the Graco Magnum X7 is a piece of machine that will impress you the moment you turn it on for the first time.
In addition to being quite a powerful machine, it also allows you to adjust the pressure as you see fit. However, this reliability comes at a cost, that of storability. The machine is quite sizable, coming at 19" x 15" x 37", making it rather harder to store than other models out there. Moreover, it weighs around 26 lb, which is somewhat on the heavy side, but it's still quite portable due to the included set of wheels and handles.
A lot of paint sprayers require you to apply a thinned paint in order to get acceptable results. Fortunately for you, this isn't the case with this fine unit.
Furthermore, we're happy to inform you that over-spraying isn't much of an issue with this model. However, we can't promise you that you won't be doing any cleaning once you're done. There is also the addition of a garden hose connection, which is very welcome and quite helpful.
One drawback to using this sprayer is the fact that cleaning it can be a bit of a timely hassle. However, it isn't really a dealbreaker considering the excellent results.
Pros
Inclusion of a garden hose connection to make the cleaning process easier
Inclusion of a pair of wheels and a handle for easier portability
Rarely requires the use of paint thinning
Quick and easy start-up
Cons
A sizeable and heavy unit which makes it less storable
Cleaning can be a quite time-consuming process
In conclusion, this Graco Magnum X7 takes our spot for the overall best airless paint sprayer for both home and professional use in 2022.
2. Graco Magnum X5 Airless Paint Gun – Bang for Your Buck
Next up on our list is the best airless paint sprayer for your money, the "bang for your buck". Now, we have just shown you how good the Graco Magnum X7 is, which should give you a general idea of the versatility of the less expensive X5 model.
This lower-priced model obviously comes out of the box with a few differences when compared to the X7, including the absence of a pair of wheels and a weight of just 20 lb instead of 26. This combination eventually results in this model being less portable than its bigger brother, the X7. However, if the somewhat weak portability isn't your main concern, then you will definitely not be disappointed with the X5's performance.
The inclusion of the adjustable pressure is always a welcome feature as it allows you to easily spray different types of surfaces without wasting time.
If you have any experience with paint spraying, then you'll definitely know that the main problem that people usually have is overspray.
Now, we won't deny that the X5 does its share of over-spraying; however, it is nowhere near as much as some of the other models at this price range. We still recommend that you cover anything and everything of value with some plastic sheets.
Like the X7, this model comes with a garden hose connection, which should make the cleaning process much easier.
Finally, it is important to mention that the X5's construction is quite sturdy and durable, considering that it's a combination of plastic and metal parts.
Pros
Less overspray than other budget airless paint sprayers
Adjustable pressure for different kinds of surfaces
Inclusion of in-handle filter to reduce clogging
Durable and sturdy construction
Cons
Not very portable with the absence of wheels
Not the best design aesthetically speaking
All in all, the Graco Magnum X5 sprayer's core functionality and performance are on par with that of the X7's, making it arguably the best value airless paint sprayer if you're on a budget.
3. Titan Impact 440 Airless Skid Sprayer – Best High-End Airless Paint Sprayer
If you only want the best of the best in life and you have a fairly big budget to spend on the best airless paint sprayer out there, we got you covered. The Titan Impact 440 is probably what you're looking for.
Some of you may be familiar with the Titan 440i, which back in the day was probably one of the best airless paint sprayers even for paint companies. Titan upgraded it making it even better, but without changing its key features.
In fact, the Titan 440 Impact is so good that even if you're a professional painter, you will be more than satisfied with your choice.
This amazing piece of device is perfect for residential, small to medium commercial applications, and property maintenance applications and it can spray stains, lacquers, enamels, latex, and everything else that has low to medium viscosity.
The Impact 440 was built having durability in mind, so spraying 100 gallons per week is totally achievable. This doesn't mean that it can't spray more than that, but keep in mind that the more you stay on the 50-100 gallons per week range, the more the device will last.
However, these devices were built to last for decades, and no, we're not over exaggerating here. The Titan Impact 440 will last literally for decades if you know how to maintain it.
The device comes with a feature called AutoOiler™, which is an oil reservoir equipped with a knob that you press to lubricate the piston to avoid any damage.
It also comes with a feature called Sureflo™, which is a button that you press in case any debris gets caught. That button pushes the ball valve up to allow any impurities flow to get caught by the filter.
The Titan 440 Impact comes with the RX-80 Gun, which is a two-finger gun, giving you more control over the sprayer, in contrast with a four-finger gun which has less stability. All professional paint sprayers out there will understand what we mean.
Something that you and your neighbors will enjoy is the fact that this airless paint sprayer is less noisy than other sprayers. It does some slight noise only when you're actively pressing it.
Pros
Very sturdy and durable
It will last for decades with minimal maintenance
Suitable for a big range of jobs and coatings
It has the AutoOiler and Sureflo signature features of Titan
It can spray 50-100 gallons per week
Very quiet for such a powerful sprayer
Cons
It's a bit pricey if you're planning to do just some minimal tasks
No digital reader
There are probably cheaper alternatives out there, but nothing compares to the quality of this airless paint sprayer and if you plan on using it to its full potential it can help you save a lot of money in the long run.
4. HomeRight Power-Flo Pro 2800 Paint Gun –Best Airless Paint Sprayer for Home Use
HomeRight has been around in the business of airless paint sprayers for well over 25 years, over the course of which they have created and sold many great products.
The first thing that comes to someone's mind if they're familiar with HomeRight is the fact that they offer some excellent products for competitive, affordable prices. The model that we've chosen to tackle this time is the C800879 Power-Flo Pro 2800, which is an all-around great & affordable piece of machinery.
Having 2800 PSI and a ½ horsepower motor, the HomeRight Power-Flo Pro 2800 is one the most powerful airless paint sprayers that you can get your hands on and a solid candidate for the title of the best homeowner airless paint sprayer.
Such a powerful motor requires a stable frame for smooth operation, which can be found in this model with the inclusion of two metal legs.
The HomeRight Power-Flo Pro 2800 has a spraying coverage speed of up to .24 gallons per minute, which means you can cover an area of around 2000 square feet in just under 30 minutes. However, this doesn't translate into a sloppy operation. On the contrary, this airless sprayer is rather easy to use.
Additionally, it comes with an adjustable pressure lock, which you can set as high as 2800 PSI, allowing you to paint anything from smooth to rough surfaces without an option.
Its construction, dimensions, and weight make it a very portable option without sacrificing easy cleaning.
There is also the fact that this sprayer requires the consistent following and thinning of thicker paints, which can be a quite time-consuming task. However, you have to keep in mind that such an issue is very common in most machines in this price range.
It is also important to mention that this paint sprayer doesn't come with any guidelines out of the box, which might or might not make the setup of this machine harder for you, depending on how familiar you are with airless paint sprayers.
Pros
Powerful motor and excellent speed
Very easy to use and clean
Very stable
HomeRight's after-sales service is excellent, offering you replacement parts if something goes wrong
Adjustable pressure control
Very portable
Reversible tip
Cons
Requires constant thinning of thicker paints
First time setup can prove difficult due to the lack of clear instructions
The sheer power, stability, and ease of use of this product are the reasons why it deserves our title for the best airless paint spray for home use.
To conclude, the HomeRight Power-Flo is one of the best airless paint sprayers in this price range, and like with all products out there, it eventually comes down to your needs and personal preferences.
5. Wagner Control Pro 130 – Best Affordable
The Wagner 0580678 Control Pro 130 Power Tank is a relatively cheap airless paint sprayer, but don't let that fool you into thinking that this is a poorly-made unit, as it's anything but that.
For starters, the Wagner Control Pro 130 comes with dimensions of 8" x 7" x 11" and weighs around 11 lb, but thanks to its 25 ft. long hose you don't have to worry about carrying it all around the place.
Additionally, the Control Pro 130 paints 3 times faster than a roller with 55% less overspray than traditional airless sprayers.
At its core, the Wagner Control Pro 130 is a pretty powerful machine. If we were to form some sort of connection between the power and the price, then this paint sprayer will definitely take the title of the best cheap airless paint sprayer on the market right now.
Similar to most paint sprayers, the Wagner Control Pro 130 comes with a few drawbacks, including the production of overspray, which means that you should cover anything of value before starting to paint and difficult cleaning due to the high number of small parts that make up the machine.
However, we're going to assume that you see a trend at this point, which is that these two issues are quite common with paint sprayers. In other words, they aren't really dealbreakers, and we still think that this paint gun is the best airless paint sprayer that you can get your hands on in this price range.
Pros
Versatile in both outdoor and indoor situations
Lightweight and portable
Powerful for the price
Cons
The overspray is a bit on the heavy side
Not very easy to clean due to the complex construction
Coming at under $500, the Wagner Flexio 590 is a great alternative to the Graco Ultra Cordless, considered by some to be the best affordable paint sprayer in the market right now.
6. Graco Magnum 257025 Project Painter – Best for Beginners
Whether you're an experienced DIYer or someone who's never held an airless paint sprayer before, the Graco Magnum 257025 is a worthy investment. For starters, the Magnum 257025's design is both easy to use and easy to maintain. It's also very storable once you're done with painting your surfaces.
It also comes with a 25ft long paint hose and can support up to 50ft if you feel like it, this, coupled with the paint sprayer's smaller dimensions, allows for easy use in hard-to-reach places.
Moreover, the inclusion of a stainless-steel piston ensures a high-pressure operation that is easily adjustable, allowing you to spray paint on numerous different surfaces without the need for thinning.
Additionally, the Magnum 257025 comes with a soft-spray technology, which is the fancy word for having a true airless spray tip, giving you total control over the spray flow, and reducing overspray.
Finally, the Graco Magnum Project Painter includes the classic garden hose adapter, which allows for a quick and easy clean whenever needed.
Pros
Soft-spray technology to help reduce or even completely avoid overspray
Sturdy and stable low-profile construction
Built-in storage compartments
Adjustable pressure
Cons
Requires you to get any thick paint thinned before use
Cleaning can be time-consuming
The combination of all these features in one machine and the overall ease of use makes this sprayer the best DIY airless paint sprayer.
7. Graco Magnum ProX19 – Best Airless Paint Sprayer for Large DIY Jobs
If you're dealing with big DIY projects such as painting several or all rooms of your home, a large patio, or the entire outside of your house, then this paint sprayer is the best choice for you. One of its main strong points is its great portability, thanks to its mainframe being a cart. It also supports a hose length of up to 150 feet.
The ProX19 comes with all the features that you usually find in Magnum series paint sprayers, including InstaClean pump filter, PowerFlush, the reversible tip, and many more. You can put as much as 5 gallons of unthinned paint in this machine.
One thing that you have to keep in mind is the fact that although this paint sprayer is one of the best models for large home improvement projects, it isn't really beginner-friendly. On the contrary, it's aimed at experienced DIYers or plain professionals who are looking to exploit its full potential.
Pros
Supports up to 150ft long hose
500 gallons of annual usage
Flexible suction tube
Sturdy construction
Very portable
Cons
Aimed at experienced users, not easy to use
All in all, if you're someone with experience when it comes to using paint sprayers and you're looking forward to a large painting project, then the Graco Magnum ProX19 is the best airless paint sprayer for the job, period.
8. Graco Pro210ES ProConnect Airless – Best Airless Paint Sprayer for Heavy Duty Use
Nowadays, most airless paint sprayers don't deliver consistent results under heavy use. However, this isn't the case with the Graco Pro210ES. In fact, this sprayer can deliver up to 1500 gallons of paint per year without a hiccup.
Other features that users might appreciate include an easy-to-replace pump and a quick to unclog large tip which helps to ensure smooth, continuous work.
Finally, the Pro210ES's frame is strong steel, which translates to the sturdy and durable construction.
Pros
Easily replaceable pump and tip
1500 gallons annual usage
QuickAccess inlet valve
Cons
Can be a bit hard to use for beginners
In conclusion, this model's focus on delivering consistent performance under heavy usage makes it the best airless paint sprayer for individuals such as professional contractors.
9. Graco Ultra Cordless Airless Handheld Sprayer – Most Portable
If you're occasionally being the neighborhood's handyman taking some jobs, or you're simply an enthusiastic DIYer who's more comfortable with handheld airless paint sprayers, then this model is for you. It's simply the best airless sprayer that you can get your hands on portability-wise.
For anyone who's familiar with the well-renowned Graco Truecoat Pro II, the experience of using this model will feel very similar since it's basically a cordless version of the Truecoat Pro II. And similar to its corded relative, it comes with a durable Triax piston pump, four Flexliner bags for quick coating swap, a pro-connect pump replacement system, etc.
Pros
Lengthy lifespan and limited downtime thanks to the pro-connect pump replacement system
Requires little to no cleaning
Sizable but very portable
Very precise
Cons
Not very suitable for professional use
All in all, the Graco Ultra Cordless Airless spray gun is the best airless spray gun portability-wise.
Getting the Best Airless Paint Sprayer – Buying Guide
We've collected what we think are the key features that you should look for in an airless paint sprayer.
Range
It's one of those features where the more you have, the merrier. Having a longer range on your paint sprayer will allow you to cover any and every corner of your house without an issue. It is usually determined by two factors: the paint hose length and the power cord length.
For one, if you get a paint sprayer that is attached to a paint bucket, do check the hose length first. Most models come with a 25 feet long paint hose while others can have hoses that are as long as 75 feet or more.
However, if you plan on getting a paint sprayer with an inbuilt container, then you need to focus on how long the power cord is instead. Most models come with a 6 feet long power cord, some of the best airless paint sprayers, however, have longer cords.
Power
If you compare airless paint sprayers to other types of sprayers, you'll realize how powerful they can be. However, their power level, like many other features that we're going to discuss, solely depends on your needs.
If the purpose of getting an airless paint sprayer is to paint small-sized rooms or just pieces of furniture, then you won't really need much horsepower. However, if you plan on doing sizeable projects like painting your entire house, for example, then we recommend that you go with a powerful airless sprayer.
In case you're wondering, power in airless paint sprayers is usually represented by the pressure levels that they can deliver. Another advantage of having more power is the ability to use thicker paints if needed. In other words, below-average airless paint sprayers don't fare well with thick paints.
There is also the fact that the more powerful an airless paint sprayer is, the faster it will perform whatever task you throw at it, so power/pressure can really be detrimental to the time you might take on a task. Still, the best airless paint sprayer doesn't necessarily have the most powerful motors. Sometimes, having lower pressure levels is advantageous.
Volume
The amount of paint that an airless spray gun can hold is quite an important factor; however, it heavily correlates to another aspect, which is size. The more paint your airless paint sprayer can hold, the larger it will be, hurting its overall portability in the process. So, if you're looking for a compact, more portable sprayer, then you'll find yourself having to refill it more often than not.
You can always take the other route and get yourself a sprayer with a large volume, but you'll obviously sacrifice both portability and storability.
The best airless paint sprayer should technically be in the middle ground, having a decent volume but not as much as to sacrifice portability and storability. However, this is a rare thing to find, and at the end of the day, the choice is yours, whether its volume over portability or the other way around, so choose wisely.
Size & Weight
While the size and weight of a unit don't technically feature, they're still crucial points that you should gloss over when looking for the best airless paint sprayer for you.
For one, they affect both the portability and the storability of the machine. You can always look for features that might ensure that the sprayer stays very portable, regardless of size or weight, such as wheels and a handle, for example. However, you have to keep in mind that such airless paint sprayers usually cost a bit more than the regular ones.
Adjustable Pressure and Tips
Many airless paint sprayers allow you to adjust their pressure providing the flexibility needed for all kinds of projects that you might have in mind. If you're looking to get the work done fast, then having a high-pressure setting is perfect. But if you have a project that requires detailed work, then you should probably tone that pressure down a bit.
The tip, on the other hand, is mainly used to change the flow of the paint while spraying. The choice of which tip to equip is also heavily dependent on the thickness level of the material you're using.
Tips, in addition to cleaning filters, require regular cleaning in order to avoid any unnecessary wear and tear.
The best airless paint sprayer that you can get your hands on should have a variety of pressure options and a number of interchangeable tips to suit all your different needs.
Construction
The majority of airless spray guns in the market right now are either made out of plastic or metal, both of which have their pros and cons. For starters, plastic construction provides a more lightweight, portable experience, hence why you usually find it in a compact, handheld paint sprayer. We recommend that you get a mostly plastic paint sprayer if you plan on doing smaller projects since they're usually cheaper and can handle the job just well.
However, you have to keep in mind that having a plastic construction is nowhere near as strong and durable as a metal one. And for that reason alone, you should probably invest in a metal airless paint sprayer if you have large projects in mind. Another plus to having a metal construction is the fact that it usually means that the sprayer can handle a more powerful motor, delivering more pressure and accuracy as a result.
Most of the models that have made it to our list of the best airless paint sprayers are either fully made of metal or a mixture of both metal and plastic.
Picking the Best Airless Paint Sprayer – Frequently Asked Questions (FAQ)
What makes an airless paint sprayer better than a regular roller or a brush?
This is probably the first question that comes to most people's minds. The advantages of using an airless paint sprayer are quite simple and straightforward. They can save you energy, time, and provide a more polished finish regardless of the surface.
However, these advantages, amongst many others, generally come with a higher price tag. But as we've showcased to you already, it is well worth your money if you find the best airless paint sprayer to suit your needs.
Which materials can I use with my airless paint sprayer?
The best airless paint sprayers in the market support numerous kinds of materials, including varnish, gloss, and emulsion. In order to maintain a smooth painting process, make sure to have the appropriate type of spray tip equipped since it's heavily linked with the sort of material that you plan to use.
How can I get the best results when using an airless spray gun?
First, you'll need to clean the surface that you're going to paint, make sure there is no dust, oil, or dirt getting in the way of things.
Second, you need to make sure that your sprayer itself is well-cleaned.
Third, and finally, do a spray test before starting to check how it's going to look and only begin once you're happy with the results.
To be amongst the best airless paint sprayers doesn't necessarily mean that you provide the best possible results without any hassle. The true best airless paint sprayers are the ones that synchronize perfectly with their users' experience to create near-perfect results.
How often do I need to clean the filters?
In our humble but professional opinion, you should probably clean the sprayer's filters thoroughly each time you use it. For one, this ensures that the next time you use it, it'll be ready. Second, it'll improve the overall lifespan of the sprayer.
In order for a paint sprayer to be considered among the best, it should come with a construction that allows you to take it apart and clean it easily and quickly.
Is safety equipment really necessary?
The answer to this question is just obvious: yes, yes, a million times.
Even the best airless paint sprayers out there will produce a bit of overspray, which can be very dangerous to your health. And for this reason alone, we strongly advise that you put on some protective clothing as well as a facemask and a nice pair of goggles. This will simply ensure your safety whenever you use your sprayer.
Verdict
Airless paint sprayers are extraordinary pieces of machinery. They're efficient, lightweight, and easy to use, making them perfect for both homeowners and professionals alike.
Picking the best airless paint sprayer may seem like a daunting task, but you won't find the process that hard if you go over our buying guide and airless paint sprayer reviews carefully. Wait, you're still here? Your next airless paint sprayer is just a few clicks away, so stop wasting time!