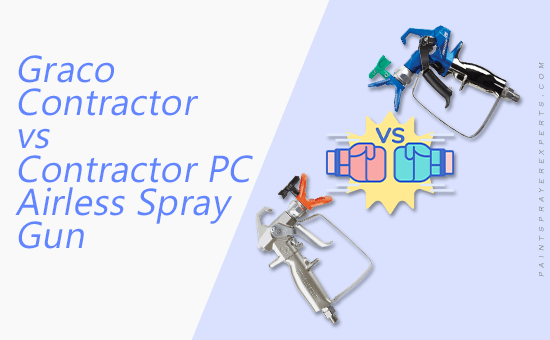 You've probably already heard about the Graco Contractor Airless Spray Gun, which is undoubtedly one of the best airless spray guns on the market and has been so for many years.
You rarely find a spray gun to stand the test of time so well, but that's what makes Graco one of the best paint sprayer brands out there.
Recently, Graco released the new version of this gun, called the Graco Contractor PC.
If you already own the Graco Contractor Spray Gun and you're doubting whether to upgrade to the Graco Contractor PC or not or if you plan on buying one of the two but you're unsure which one, worry not, because we are going to cover everything you need to know from both these airless spray guns on this comparison review.
We'll take a look at each one of them separately, and then we'll do a Graco Contractor vs Contractor PC Airless Spray Gun review to give you a clearer picture of their differences as well as their similarities.
Ready?
Let's go!
Graco Contractor Airless Spray Gun
If you're a professional or if you happened to do a couple of DIY paint jobs on your house, you have probably already heard about the Graco Contractor Spray Gun. It has been on the market for many years and it's one of the favorite choices among pros.
It doesn't matter how big of a project you're doing, it doesn't matter what type of paint you're using, it doesn't matter how many times it falls off your hands. This spray gun will always deliver high-quality spray paint and will last you for years.
If you ask us, the most important features a spray gun should have, are consistency and reliability. It's hard to believe, but most spray guns on the market lack one of these features or even both.
The Graco Contractor, however, it's known to be both reliable and consistent, and that's why is so loved in the paint spraying community. Even if it's not as shiny as some other spray guns out there, it does the job flawlessly.
Graco Contractor PC Airless Spray Gun
During the last years, the paint sprayer industry has done major advancements and Graco has managed to keep up with the time, releasing new products to the market and also updating their old tools.
Graco took the Contractor Gun and added some features that they and their customers wanted for a long time.
We all know the importance of a lightweight gun when doing some heavy-duty jobs that require spraying for prolonged amounts of time. The Contractor PC Gun is one of the lightest guns ever built, weighing just 21.4 oz (0.6 kg).
Graco also managed to make the trigger of the Contractor PC Gun lighter, requiring 50% less force to pull than its predecessor.
During all these years, we've seen two-finger, three-finger, and four-finger trigger guns and we've also seen people who prefer using different types of triggers.
Graco noticed that too, so they incorporated to their Contractor PC Gun the so-called E-Z Fit adjustable trigger, which helps you transform your gun from a two-finger trigger to a three and four-finger trigger with a simple screw, so you no longer have to stick to the old two-finger trigger gun.
Also, they added the ProConnect feature which is a Replacement Cartridge that holds all parts in one simple part, lets you rebuild the gun easily and in just a couple of minutes. This wasn't possible before, so rebuilding the old guns was a real pain, requiring much more effort and time.
With all these features added, Graco managed to keep the functionality of the gun almost the same.
The Contractor PC Airless Gun is efficient, consistent, and reliable the same as its predecessor. It works flawlessly and the spray jobs are always top-notch.
Nothing more to say about its functionality, because we were already satisfied with the Contractor Gun, and thank God Graco kept it the same. Kudos to that!
Graco Contractor vs Contractor PC Airless Spray Gun
Now that we saw their features, let's do a comparison between these two spray guns. Updating an already great piece of product is not an easy task, so let's see if Graco did it right.
Durability
Something that the Contractor Gun was well known for, was the fact that it was almost indestructible.
You could drop it from the rooftop and it would still work like a charm. Accidents happen, and a gun falling to the ground happens more than you would think of.
When you add so many features to a product, it automatically becomes more prone to breaking. Because the Contractor PC Gun has some plastic parts added such as the adjustable trigger, it's almost inevitable that these parts sooner or later will break.
In Graco's defense, this never happened to us yet and we hope it never will, but judging from past experiences with other tools which have plastic parts, we can say for sure that plastic is prone to breaking, compared to metal parts.
Ease of use
The Graco Contractor Gun is well known for having a stiff two-finger trigger. For some, that may be a good thing, because a two-finger trigger that's not so easy to pull gives you more control over the gun.
However, after spraying for hours and hours, it can cause serious hand, wrist, and finger fatigue and it's not uncommon to cause complications such as tendinitis.
When we tried the Contractor PC Gun and we witnessed how easy it was to pull the trigger, that's where we realized the importance of it.
Moreover, the fact that you can adjust the length of the trigger on the Contractor PC Gun can be a big advantage to some, especially for paint companies where the gun will be used by more than one person.
Beware though, because such an extremely light trigger can be a real problem if you are not careful. Easy-to-pull triggers are known for causing false trigger pulls and can ruin a paint job if you're not careful.
Because the Contractor PC Gun is considerably lighter than the Contractor Gun (21.4 oz vs 28.8 oz), it is easier to control and won't tire your hand as much as the old version.
Performance
Regarding their functionality, we must say that both these spray guns work like a charm! We never had any problems and most importantly, they both deliver fantastic spray jobs.
Something we love about the Contractor series is the fact that these guns spit less than other models, such as the SG series.
We tested both guns on different surfaces using different materials, such as enamel and latex. Needless to say, both performed great, with minimal to no clogging at all.
Before the introduction of the Contractor PC, the Contractor Gun was an easy reach for any type of job. Now, we still use the Contractor Gun, but we have also added the Contractor PC Gun to the rotation.
Rebuilding
Let's be honest, when the time comes, most spray gun users do not rebuild their guns; they just buy a new one. That's understandable, considering the low price of a new gun and the high price of rebuilding kits. Graco decided that it's probably time to change this.
The price of a rebuilding kit for the Contractor PC is cheaper than the older version. To be honest, the price for a rebuilding kit for the older version was absurdly high, to the point that made no sense rebuilding your gun, when you could just grab a new shiny one for some dollars more.
Also, Graco made the new Contractor PC Gun much easier to rebuild. The Contractor PC Gun has a replacement cartridge called ProConnect instead of many different small parts. We tried it and it was a no-brainer.
Final thoughts
To sum everything up, we think that the Contractor PC Gun is indeed a great update on the already great Contractor Gun. If you haven't already decided which one you should choose, let us give you some final suggestions.
Why choosing the Contractor PC over the Contractor Gun?
You want more versatility from your gun
The gun is going to be used by more than one person
You get finger fatigue from hard-to-pull triggers
You get hand fatigue from heavier guns
You don't mind some extra plastic parts
You want to rebuild your gun in the future
Why choosing the Contractor over the Contractor PC Gun?
You want a two-finger trigger gun and you do not plan on changing it
You want a gun that will last you for decades
You tend to drop your gun frequently
You want more control over the trigger
You want a gun that has proved to be the best for many years and you do not trust the new shiny versions
Still not convinced? Take a look at the links below and read some of the reviews inside. We're sure you will make the right decision.
This was all for today's comparison. We hope our experience with these two guns helped you make up your mind.