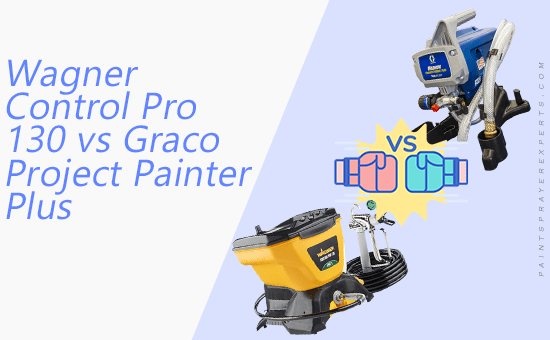 In today's post, we're going to compare two so-called "entry-level" airless paint sprayers: Wagner Control Pro 130 vs Graco Magnum Project Painter Plus.
I own a Graco 257025 Magnum Project Painter Plus for quite some time now, and I recently purchased a Wagner 0580678 Control Pro 130 based on a friend of mine's recommendation.
Because I had to paint some old kitchen cabinets and I also happened to have some free time, I thought it would be the perfect opportunity to test the Wagner Control Pro 130 and to compare these two paint sprayers head to head.
Follow me, as I describe my experience with both of these sprayers.
Ready? Let's go!
Wagner Control Pro 130
My friend Roy, who happens to be a big fan of Wagner sprayers, borrowed a Control Pro 130 to paint the fence of his new house and told me he had a very positive experience with it.
I immediately went online to check the price and to read a couple of reviews. People had mixed feelings about this device but the price was too good to not give it a shot.
To be honest, I didn't have big expectations about this paint sprayer but I still couldn't wait to try it out.
Specs
Horsepower: 0.375 hp
Flow Rate: 0.24 gal/min
Max Tip size: 515
Hose Length: 25 ft
Tank capacity: 1.5 gallon
Pressure adjustment: No
Assembly and priming
The device was extremely easy to assemble. Even if you have no prior experience with paint sprayers, assembling the Control Pro 130 won't be a problem as long as you follow the instructions.
Even priming it is a no-brainer. The device has only two options: spray and prime, so it's quite challenging to mess things up.
And there you have also the first thumbs down for this device.
The Wagner Control Pro 130 has no pressure adjustment. You're stuck with just two options: spray/prime.
Use
If you don't already know, the Wagner Control Pro has a 1.5-gallon container where you pour the paint so yeah, you can't spray directly from the paint bucket.
It may be beneficial if you plan on holding the device and carrying it around, but for me personally, it's not a great feature, mainly because of the low capacity but also because I love the convenience of spraying directly from a paint bucket.
Even though Wagner says you can use this device with unthinned paints, my friend Roy suggested thinning paint beforehand and that's what I did.
I put the device on "Spray" and pressed the trigger to start spraying.
And let me tell you it sprayed like a charm… for 10 minutes…
It literally sprayed for just 10 minutes then it stopped working entirely.
I didn't want to jump to conclusions right away, so I thought I'd give it another chance. I emptied all the paint from the tank, cleaned the device thoroughly, thinned the paint even more and loaded the container with it, primed the device, and started spraying once again.
The Wagner Control Pro 130 kept doing its job for like 5 minutes or so, then I noticed that it was gradually losing power and it was spitting out globs of paint.
As much as I wanted it to work, it didn't.
Overspray
I don't know if I can give an accurate description because the device worked fine for only 15 minutes or so, but I'll try.
For those 15 minutes, I was shocked by all the paint mist that surrounded me and all the paint wasted.
They say the Wagner Control Pro 130 uses High Efficiency Airless (HEA) Technology that reduces overspray up to 55% but to be honest this is one of the worst airless paint sprayers I've ever used regarding overspray.
Graco Magnum Project Painter Plus
After all that mess, I couldn't wait to use my good old Project Painter Plus. For the kind of job I was trying to do, this airless paint sprayer was a perfect choice, even though it has been quite some time since the last time I used it.
Specs
Horsepower: 0.375 hp
Flow Rate: 0.24 gal/min
Max Tip size: 515
Hose Length: up to 50 ft
Tank capacity: No tank; it sprays directly from the paint bucket
Pressure adjustment: Yes
Assembly and priming
I am accustomed to Graco paint sprayers, but for someone new to this, it can be hard the first time using the Graco Magnum Project Painter Plus.
However, the device comes with clear and easy-to-follow instructions, so if you read them carefully you won't have any problems whatsoever.
Inside the package, you'll also find an SG2 Metal Spray Gun, RAC IV 515 SwitchTip, 25 ft. Duraflex Paint Hose, Pump Armor Storage Fluid, PowerFlush Adapter, Quick Start-Up Guide, and the Operation Manual.
Priming is very easy. As I said, follow the instructions and everything will go smoothly.
Use
Thanks to its flexible suction tube, you can spray directly from a paint bucket. I really love the convenience of it.
Most of the time, I use thinned paints on my paint sprayers but this time, as to show how much better the Graco Magnum Project Painter Plus vs Wagner Control Pro 130 is in terms of not clogging, I went for it straight out of the paint bucket.
Let me tell you, this bad boy did not clog not even once. I kept spraying and spraying and the Graco Project Painter Plus did not fail me for one second. I was speechless.
Thanks to the long hose I didn't have to move the device at all. Even if I had to move it, it's so lightweight that you can carry it around with no problems.
I finished the job in no time and the result was perfect. My old kitchen cabinets looked like new and there was no need to do any retouches.
The cleanup was fast and easy, thanks also to the PowerFlush Adapter that connects to a garden hose for easy cleaning, so there are no excuses to leave your Project Painter Plus unclean. It took me less than 20 minutes to complete it.
Overspray
I don't know for sure how many paint sprayers I've used my whole life, but for one thing I'm sure: The Graco Magnum Project Painter Plus is one of the paint sprayers with the least amount of overspray and one of the best in terms of paint economy.
I noticed a great reduction of paint consumption when using this airless paint sprayer compared to other ones and it wasn't even necessary to do a whole lot of preparation covering everything because overspray was minimal.
Final Thoughts on Wagner Control Pro 130 vs Graco Magnum Project Painter Plus
I really wanted to like the Wagner Control Pro 130 but I just can't. I had a terrible experience with it and I can't even suggest buying it for any type of job. Maybe it's just me, maybe I did something wrong, but I took a look at some buyer reviews online and there were so many people that had similar experiences and somehow, that consoled me.
The Graco Magnum Project Painter Plus, on the other hand, was such a breeze to use. If you have some paint tasks to do around the house, even some big ones, I can't recommend it enough.
However, something worth mentioning is the fact that some people online are complaining about the sprayer's hose connections. It seems that some devices do indeed have this problem, where the hose fitting connected to the sprayer is faulty and the device will leak paint if it happens.
No worries, though, because the guys at Graco's customer service are amazing and you can probably find a solution if it ever happens. Also, considering that a 50$ hose and a 100$ spray gun are included in the package, somehow the device pays for itself.
Nevertheless, from what I comprehend, cases that this will happen to you are extremely low. None of my friends ever complained about something like this ever happening to them.
To sum everything up, for this comparison review of Wagner Control Pro 130 vs Graco Magnum Project Painter Plus, we have a clear winner:
Graco Magnum Project Painter Plus is my paint sprayer of choice! (affiliate link)
Thumbs up to Graco. As always, the guys there did a great job with this device.
This was everything for today's post. See you next time. Cheers!