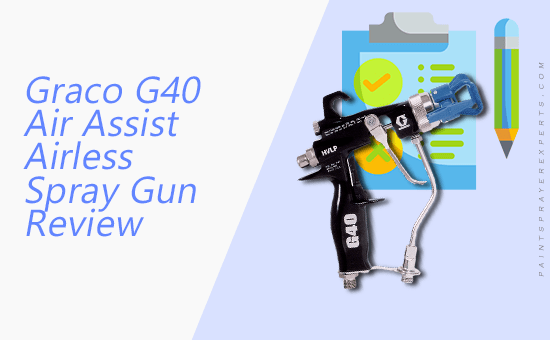 Air-assisted airless spray guns have been a staple in the industry for a long time. Professionals love them because of their quality, precision, speed, and paint economy.
Today's review is about one of the best guns in this category; the Graco G40 Air Assist Spray Gun.
Keep reading below to find out more about Graco G40 and whether we recommend buying it or not.
Let's go!
What is an air-assisted airless sprayer?
An air-assisted airless sprayer is exactly what it sounds like; a hybrid between an air sprayer and an airless sprayer.
Air sprayers use a low-pressure fluid stream combined with air coming from a compressor to atomize paint, whereas airless sprayers use a high-pressure fluid stream created just by hydraulic force without compressed air.
Air-assisted airless sprayers use a high-pressure fluid stream, just like the airless sprayers, backed by compressed air at the cap, similar to air sprayers.
In the end, what you get is a spray pattern similar to that of an air sprayer, combined with the speed and transfer efficiency of an airless sprayer.
It sounds like the best of both worlds, but in practice, it all comes down to the settings the sprayer operator decides to use based on his experience and the quality of the device being used.
Graco G40 Spray Gun technical specifications and features
Graco G40 Specs
| | |
| --- | --- |
| Type | Air-assisted Airless Gun |
| Weight (lb) | 1 |
| Max fluid pressure (psi) | 4000 |
| Max air pressure (psi) | 100 |
| Trigger type | Two finger |
| Compatible materials | Acid Catalyzed, Epoxies, High Solids, Lacquer, Latex, Plural Component Materials, Polyurethane, Solventborne, Urethane, UV Coating, Varnish, Waterborne |
The Graco G40 has always been described as a very reliable spray gun, something you would grab without thinking it twice if you were asked to finish a job to perfection.
It uses a high-pressure fluid stream, combined with compressed air at the cap. Being such a versatile gun, small tweaks on the settings will greatly impact the final result.
For a spray gun of this standard, it is amazingly lightweight, being the perfect choice for large projects where you might experience muscle fatigue. Also, the two-finger design makes this spray gun even more practical and easier to control.
All in all, the Graco G40 spray gun seems packed with all the features you would want from a spray gun of this level, but let's see if they materialize in practice.
Setup and installation
Before installing and setting up the Graco G40 spray gun or any other paint sprayer device for that matter, always read the instructions included in the packaging. Our reviews will never be a replacement for the included instruction manuals.
Installation
Installing your Graco G40 is pretty straightforward. Don't forget you have to install two lines: the air line and the fluid line.
For the air line, first, you have to install the air filter that will block dirt and moisture going inside the gun. You also have to install an air pressure regulator to control the air pressure. To shut off the air, a shutoff valve is also needed. After the shutoff valve, comes the air hose. The last step is to connect the air hose to the gun air inlet.
For the fluid line, you simply have to connect the fluid hose to the gun inlet. Other accessories are also available but not mandatory, such as a fluid swivel connector for more flexibility.
Setup
The first thing you should do every time you buy a new gun or any painting device is flush and clean it. During the production and testing process, some type of oil is used. If you don't want that oil to end up on your project's surface, you should flush and clean the device thoroughly.
After selecting and installing the right spray tip that fits your needs, you should rotate the air cap as needed to obtain the desired spray pattern.
Operation
Before starting to work on your project, always follow the safety guidelines, such as the pressure relief procedure and the trigger lock. Everything you need to know about safety is described in detail in the manual included.
Spray pattern adjustment
Do not turn on the device yet. Always start from the lowest setting, turn it on, and gradually increase the air pressure until you find the sweet spot.
For this step, a testing surface is necessary to not compromise the finish quality on the project's surface.
Fluid application
Keep the gun at a distance of around 12 inches from the surface. A little tweaking may be required based on your settings.
Start spraying making parallel even strokes with a 50% overlap. This will ensure perfect coverage without tears or blank spots.
Do not arc the gun or your hand. Always keep the gun at a 90-degree angle from the surface.
Maintenance
Like every spraying device, the Graco G40 Air Assist Airless Spray Gun needs regular maintenance in order to achieve perfect results every time and to prolong its lifespan.
As always, refer to the Graco G40 manual for daily gun care, flushing, and cleaning.
Graco G40 Reverse-A-Clean (RAC) Tip
A RAC tip is a reversible tip that allows you to turn your gun into "cleaning" mode, just like the airless sprayer guns, by simply turning the tip 180 degrees. This feature comes in handy if your gun gets clogged. By turning the tip to the other side, you can simply spray the clog away.
With a RAC tip is not possible to regulate the airflow directly from your gun, but because you have the ability to change the tips based on the project you're working on and your personal preferences, you can tailor the spray pattern to suit your needs perfectly.
Model 24C857 guns use this feature. Bear in mind that the older RAC assembly kits are not interchangeable with the current model guns.
Graco RAC X Air Assisted Airless Switch Tip Housing (Affiliate Link)
My thoughts on the Graco G40 AA Spray Gun
Build quality
The Graco G40 is made of the highest quality components, making this gun strong and durable and at the same time, very lightweight.
Compared to other air-assisted spray guns, Graco G40 is one of the lightest ever made, reducing the operator's fatigue and allowing for better control over the spray pattern.
Also, the two-finger trigger is comfortable and easy to pull, reducing muscle stress that happens often with other spray guns.
Spray quality
Used the correct way and at the right settings, the Graco G40 is able to produce superior finish quality. It may take some time to find that sweet spot, but believe me when I say it's totally worth the wait.
A smooth and uniform finish, no involuntary overlaps or blank spots, no tears, no paint spitting; what more can you ask from a spray gun?
Consistency is key when spraying large surfaces and Graco G40 will help you achieve that.
Fluid Economy
The Graco G40 is probably one of the best guns I ever used in terms of fluid economy. Thanks to its design, the transfer efficiency is increased, resulting in less fluid being used, less overspray, and less material waste.
Spray devices always had a bad reputation regarding paint wastage, but Graco managed to surprise me once again.
Price
The Graco G40 is not the cheapest spray gun out there and honestly, it wasn't meant to be.
If you compare it with other spray guns in the same price range, what you get from Graco G40 far outweighs its competitors. I even used some more expensive guns that were nowhere near its quality.
The price to quality ratio is excellent on this air-assisted airless spray gun. It is worth every penny.
Final Thoughts
Going back to the title's question of whether the Graco G40 Air Assisted Airless Gun is worth it or not, the final answer is YES.
What you get is a strong and durable spray gun, capable of delivering top-notch results with minimal paint consumption.
The above statement sums up my experience with the Graco G40 gun. I hope I gave you at least an idea of what it's like using it.
If you own a Graco G40 or if you decided to buy it, drop a comment below and let me know your thoughts.
Cheers!