5 Best Paint Sprayers for Cabinets in 2022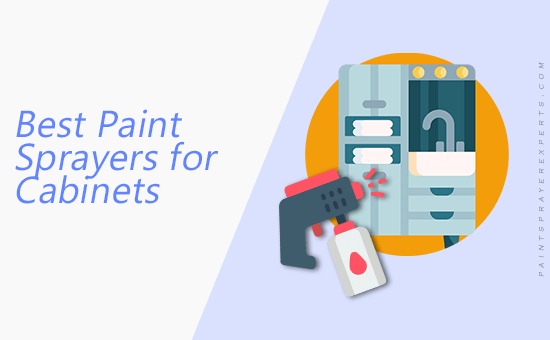 We've all had this one instance happen to us where we decide that it's time to paint our kitchen cabinets, or any cabinets in the house for that matter.
We wouldn't blame you if you decide to use a brush or a roller for a job, but you can't deny that it's more time consuming and tiring than using a paint sprayer.
Besides being more time and energy-efficient, a paint sprayer can reach areas that you usually can't with other tools like cracks, gaps, bumps, etc. And we all know those kitchen cabinets are full of such "unreachable" areas. Moreover, if properly used, paint sprayers will consume way less material than a normal brush.
Now, since online shopping is the only safe way to go during these times, we've tested a few dozen models ourselves and collected for you what we think are the 5 best paint sprayers for cabinet jobs available on Amazon. We've also included a thorough explanation of all the different kinds of paint sprayers and a buying guide to aid you more on your journey to find the best paint sprayer for you.
Best Paint Sprayers for Cabinets – Our Picks
1. Graco Ultra Corded 17M359 – Editor's Choice
The newest addition to Graco's airless arsenal, the Graco Ultra Corded 17M359, is our choice for the overall best paint sprayer for cabinets for numerous reasons. For one, it comes packed with more features than any other electric-based handheld model out there right now.
It's powered by a Triax triple-piston pump and operates between 500 and 2000 PSI. All it takes to remove and replace this pump in case things go south is a Philips head screwdriver. However, it shouldn't come down to this if you use the sprayer properly and constantly clean the pump.
On top of all this, it still is quite lightweight and durable at the same time, mainly due to the stainless-steel construction.
Additionally, the 17M359 supports tips that range from .008 to .016, which means that you'll be able to spray all different kinds of coatings and paint, including primers, latex, enamels, acrylics, etc. These "Reverse-A-Clean" tips are super easy to clean and also interchangeable with other Graco products, further adding to their overall versatility.
The 17M359 also comes with 32 oz flex-linger bags included in the box, but if you feel like having larger options, you can always get some from Graco themselves.
Pros
Reverse tips to prevent paint from clogging
Little to no maintenance required
Supports a variety of paint
Durable & lightweight
Easy to handle
Cons
Not designed with the idea of being used for bigger projects in mind
All in all, the Graco Ultra Corded 17M359 is an excellent option for painting anything from your kitchen cabinet, drawers to some awkward corners of your home. And that's why it is our personal choice for the best paint sprayer for cabinets of 2022.
2. Wagner Flexio 590 Paint Sprayer – Best Overall
Once we put the editor's choice aside, it all comes down to raw performance and being feature-packed, and this is where the Wagner Flexion 590 comes into play, winning our spot for the overall best paint sprayer for cabinets of the current year.
It is a versatile paint sprayer that can be used for both indoor and outdoor projects. In other words, in addition to being an excellent choice to deal with your cabinets, it can also be used to paint different surfaces in different corners of your home. This is all thanks to the sprayer's core technology, which allows you to switch between 9 different speeds to attain a precise level of control.
Moreover, this handheld sprayer only weighs around 2.1 lb, making it a very portable option, especially for longer periods of use. It's also super quiet when compared to other models in the market, a feature that many might appreciate.
You can always switch between the two nozzles and cups that are provided to you in the box, which provides a certain level of much-needed flexibility.
Pros
Very versatile with the inclusion of power controls and speed dials
Lightweight and ergonomic
Quiet operation
Easy to operate
Cons
Powerful but prone to a fair amount of overspray
Warranty is only 1 year
A simple search on the internet will show you how much of a fan favorite the Wagner Flexio 590 is, and this is mainly due to how versatile of a machine it is.
Capable of handling anything from small furniture to large outdoor walls. Its lightweight and ergonomic construction, coupled with its amazing performance, is why it snatched the spot of the best paint sprayer for cabinets that money can buy you in 2022.
3. HomeRight C800971 Super Finish Max – Best Bang for Your Buck
You can get your hands on a HomeRight Max Fine Finish Sprayer for well under $100, and it comes packed with features. Whether you'll looking to paint an old kitchen cabinet, a set of drawers, or just small pieces of furniture in general, the HomeRight C800971 got you covered, no pun intended!
If there is one thing that you've already learned with our reviews, it's the fact that each job requires a different spray pattern in order to achieve quality results. This paint sprayer allows for vertical, horizontal, or circular spraying, making it a very versatile choice for most jobs.
Overspray is very minimal, and most finished results come out looking flawless. There is also the fact that the frame of this paint sprayer was designed with ergonomics in mind. This, coupled with its lightweight body, makes it very comfortable to hold.
It also features adjustable controls, allowing you to customize it as you see fit, guaranteeing the best possible results on your kitchen cabinets or other small pieces of furniture.
Moreover, this machine rarely needs any maintenance as long as you make sure to clean it after each paint job to ensure that it doesn't clog. However, if things go south, we're glad to inform you that you'll be covered with a 2-year warranty on the whole machine.
Pros
Perfect for furniture, especially small-sized pieces
Adjustable spray control
Comfortable to use
2-year warranty
Great price tag
Cons
Requires constant maintenance to prevent wear and tear
Can only tilt 45% vertically
This exact sprayer comes in 2 models, with the HomeRight C800766 Max Fine Finish Sprayer being the cheaper one of the two. Despite being the more expensive one, the model we've chosen to review still deserves the title of the best paint sprayer for your cabinets with an emphasis on the price to performance ratio.
4. Graco TrueCoat 360 Kitchen Cabinet Paint Gun – Runner-Up
Next up is our runner-up for the title of the best paint sprayer for cabinets of 2022.
Nowadays, we can't deny that most paint sprayers look very forgettable; however, part of the reason we chose the Graco TrueCoat 360 is its futuristic sci-fi like look. Nonetheless, performance is still more important than appearance, and this is where the TrueCoat 360 might have some trouble.
Raw performance is near perfect, but it's just that this paint sprayer has a very steep learning curve. And for that alone, we don't recommend it to newbies at all since misusing it will result in a messy paint job accompanied by a fair amount of overspray.
However, if you're someone who's already familiar with paint sprayers, then this paint gun is a very good choice. For one, it comes with a dual-speed adjustment which allows you to go down two routes, a lengthy, detailed job or a sped-up one.
There is also the stainless-steel piston pump, which allows you to use unthinned paint at high-pressure levels without an issue. The compact design will also allow you to spray hard to reach spots without any trouble and get every tiny detail of your cabinets.
We've heard some customer complaints about this machine's longevity, and this is where the 1-year warranty comes to play. If you want our opinion, 1-year isn't enough, but it's not a dealbreaker considering the number of features you're getting.
Pros
Dual speed adjustment for situational changes
Unique, great-looking design
Cons
Not ideal for newbies due to the steep learning curve
A fair amount of overspray
Questionable durability
All in all, if you're someone who is familiar with paint sprayers and is willing to set the issue of this product's questionable durability aside, the Graco TrueCoat 360 Kitchen Cabinet Paint Gun is a great alternative to the HomeRight Super Finish Max. And for that reason alone, it gets a spot on our list of the best paint sprayers for cabinets.
5. HomeRight Finish Max HVLP Paint Sprayer – Most Affordable
Check the price if this sprayer on Amazon right now, and you'll understand why we think it deserves the title of the best paint sprayer for cabinets (a little bit of) money can buy. It's a straightforward option, requiring no air compressors, pumps, or hoses, perfect for anyone who is planning to do some DIY around their house.
You also get adjustable spray controls that allow you to switch between three different spray patterns: horizontal, vertical, and circular. The sprayer comes with a 27 oz container and weighs around 3.4 lb, which is not as light as some of the other handheld models in the market right now, but it's still fairly comfortable to hold.
Similar to the case of any product out there, going for the most affordable model usually has its drawbacks. In the case of the HomeRight Finish Max HLVP paint sprayer, you get a cup that is prone to some leaking here and there, according to the reports of numerous clients.
Moreover, the Finish Max requires regular cleaning, fortunately for you; however, it's quite an easy task and doesn't require much time.
Finally, the HomeRight Finish Max HLVP Paint Sprayer comes with a 2-year limited warranty, which is a great addition considering that most brands nowadays offer little to no warranty at all.
Pros
Not very lightweight but still comfortable nevertheless
Adjustable spray controls for different situations
2-year limited warranty
Very easy to use
Cons
Requires regular cleaning to prevent wear and tear
Occasionally leaks from the cup
If you're on a tight budget and you're looking to not cut any corners on your quest to have a good paint job, then the HomeRight Finish Max HLVP paint sprayer is for you. It is quite frankly the best paint sprayer for cabinets that will not break your bank for sure.
Types of Paint Sprayers
Conventional Sprayers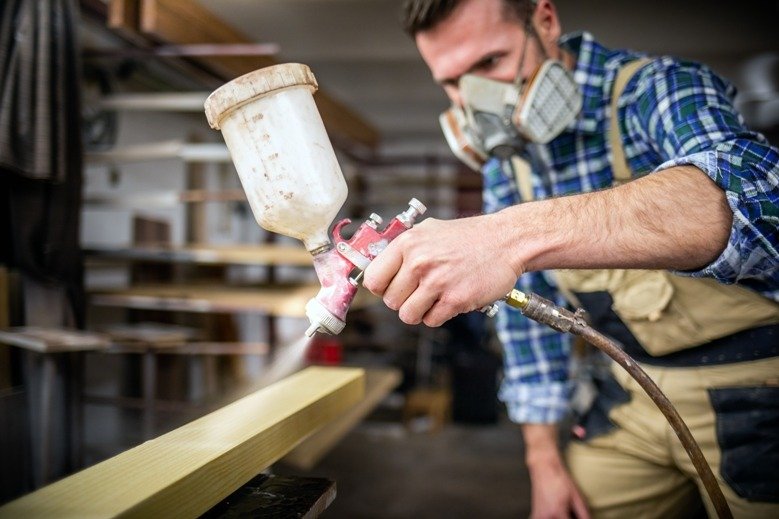 The word conventional in this case stands for old, noisy sprayers that implement compressed air to shoot out the paint. They function as follows: highly compressed air that was once trapped inside the container alongside paint is then sent out through the hose resulting in a thick spray of paint.
While conventional sprayers have always been both reliable and easy to use, they still have their share of drawbacks, the most prominent of which is paint control. It is a known fact that, more often than not, around half of the material that gets out of these sprayers is wasted. Less than half of it actually lands on whatever surface you're trying to paint.
To cut it short, conventional sprayers are efficient at their job and very cheap in comparison to other types. However, their messy spray pattern and loud noise might be a turnoff for many people, reasonably so.
And surely, you've noticed that none of our picks for the best paint sprayers for cabinets are conventional sprayers, they instead belong to two other types.
High Volume Low Pressure (HLVP) Sprayers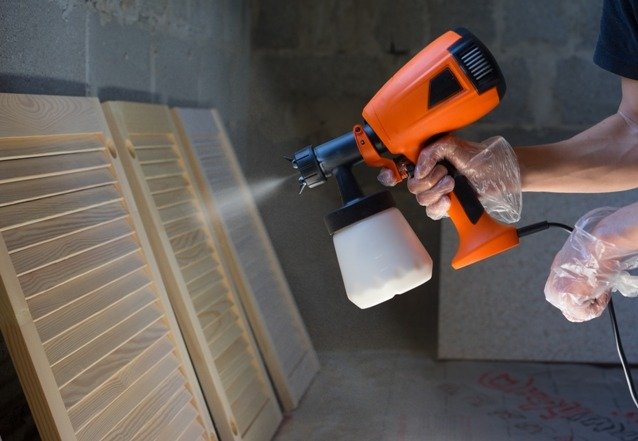 As the name already suggests, HLVP sprayers, unlike conventional ones, will deliver a narrower stream of paint that is easier to control. This makes them perfect for working on smaller objects or hard to reach surfaces, hence why most of the best paint sprayers for cabinets are HVLP ones.
Moreover, lower pressure means more volume (duh), which translates to more material on the surface that you're trying to paint in the first place. Their regular performance and precision allow you to paint anything from individual pieces of wood to your bicycle or doors.
Finally, High-Volume Low-Pressure sprayers are the perfect choice for DIY people simply because they're very easy to use and will deliver results that look professional and near perfect.
Airless Sprayers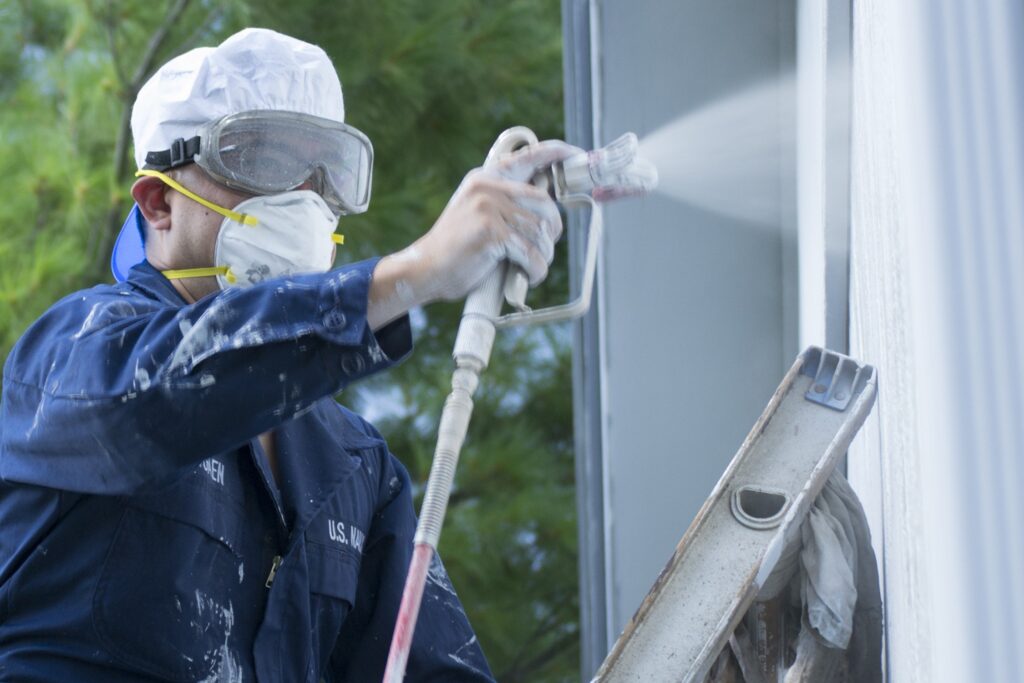 To put it short, airless paint sprayers are brilliant pieces of technology. As the name already alludes, you won't be having any air mixed with whatever material you're using.
They're basically the best of both worlds, being able to cover large surfaces like conventional sprayers with all the features of an HLVP sprayer. Rest assured, as most of the jet of paint that comes out of your airless sprayer will make it to the target surface without an issue.
You can easily adjust the way the paint comes out of the nozzle, depending on your ever-changing needs. All this versatility translates to you being able to cover most surfaces, small or big, in little to no time, without leaving a mess.
Airless paint sprayers usually contend with HLVP ones for the title of the best type of spray painters for cabinets, and it all comes down to the features, performance, and, most importantly, personal preference.
Getting the Best Paint Sprayers for Cabinets – Buying Guide
When looking for the best paint sprayer for your kitchen cabinets that money can buy, you'll need to consider a few factors, including:
Sprayer Type
We've already explained the three main types of sprayers above. However, not all of them work perfectly for a job, such as painting your kitchen cabinets or compact furniture.
Handheld HLVP sprayers or airless ones are perfect are up to the task, but conventional sprayers that rely on compressed air won't serve you well. In other words, the best paint sprayer for your kitchen cabinets certainly won't be a conventional one.
Size of Project
Before starting any project, you should always get a rough estimate of how much material and time you'll need to complete it. This will help you better understand which sprayer is the best for your cabinets and such since the capabilities of these little machines vary from one model to another.
Type of Paint/Coating Material
Once again, you should decide on which model might be the best paint sprayer for your cabinets, depending on how many paints or coating materials it supports. Fortunately for you, this won't be much of a hassle since most spray guns nowadays support varnish, stain, or a clear coat, all of which are perfect options for painting your kitchen cabinets and other small furniture.
Power Rating
Grabbing the best paint sprayer for cabinets doesn't necessarily mean that you'll get the fastest, most powerful motor out there. Well, there are a lot of paint jobs out there that require you to have a sprayer that's equipped with a high horsepower motor. However, painting the cabinets around your house or other small furniture definitely isn't one of them.
This is simply due to the fact that you'll need to pay attention to the details, which is only achievable at slower speeds. This is where HVLP sprayers shine since most of them come with smaller, slower motors.
We're not saying that airless guns are useless, though since most of them come with adjustable pressure, another factor that we'll deal with immediately.
Adjustable Pressure
Nowadays, most handheld sprayers have a pressure adjustment, which enables you to have more control over different aspects of the paint spray, without having to switch any nozzles or tips.
Indoors jobs, including painting your cabinets and furniture, require detailed work hence why you should stick to lower pressure models.
If you're working on painting a large area, then you can simply increase the motor speed by adjusting the pressure control to a higher degree.
Some models don't come with this feature, though, and while controlling the spray is very doable without it, we recommend that you got for a model that has it anyway, for your own convenience.
In our opinion, the best paint sprayer for your kitchen cabinets is one that comes with a highly customizable pressure level, allowing you to hop between different surfaces and situations without losing precious time or energy.
Spraying Tips
Switching between different spraying tips can help you achieve anything from accurate, pin-point sprays to wide-angle sprays. Out of all the parts that make up a paint sprayer, the tips and nozzles are the ones that are most prone to wear and tear. For example, a tip will serve you an average of 25 gallons worth of paint before burning out. So, make sure to always stack up on both tips and nozzles before starting any job.
The best paint sprayers for cabinets don't necessarily come with a lot of spraying tips out of the box. They just come with the right ones, that's all.
Capacity
The majority of handheld models come with a basic cup that can hold anywhere from half a pint of material to a full quart. They also offer you the ability to alternate between different paint cups depending on your current needs.
The true best paint sprayer for your cabinets and anything else is one that operates on a thin line in the center, where you get the most material but without having to consequently sacrifice much portability due to the added weight.
Clean-up & Ease of Use
Two co-related aspects that you should never overlook, ease of use and clean-up are two very important aspects to put into consideration when shopping for the best paint sprayer for your cabinets.
For one, we insist on the importance of cleaning your sprayer after every use. However, not all sprayers are equally easy to clean; some come with extra parts or smaller than usual constructions. Nevertheless, getting rid of all the residual paint after each job is necessary to ensure the smoothest operation next time you pick up your spray gun.
Additionally, you want to get your hands on a paint sprayer that is easy to use in order to avoid any mishaps or inconveniences that might come your way, especially if you're a newbie to all this.
One straightforward way to tell how easy a sprayer gun is to use is the number of buttons, dials, knobs, and triggers it comes with. Contrary to what you might believe, the fewer buttons, the better, after all, you just need all the necessary stuff, without all the fancy extras that'll make your life miserable instead of being helpful as they're branded to be.
Price & Warranty
For starters, you should figure out your allotted budget first, then explore all your options. As is the case with most other products out there, you get what you paid for, but there are exceptions, obviously.
There comes the point where you don't get any more benefits if you pay more, and there are also cases where you can get a lot of great features packed into one spray gun for a price tag that is way less than others.
Another important aspect that you should focus on is the warranty. Paint sprayers can come with anything from 12 to 60 months of warranty. Of course, the longer the warranty is, the more peaceful you'll sleep at night. We recommend that you reconsider any option that comes with less than a year's warranty since this is below the acceptable norm.
Verdict
When taking care of a delicate home project, such as spraying kitchen cabinets, it's essential to have only quality tools around, such as the best paint sprayer for cabinets.
Before picking one, make sure to read through our buying guide carefully. Once you do that, the right choice will be obvious. What are you still doing here, then? Get your new paint sprayer and start working already!