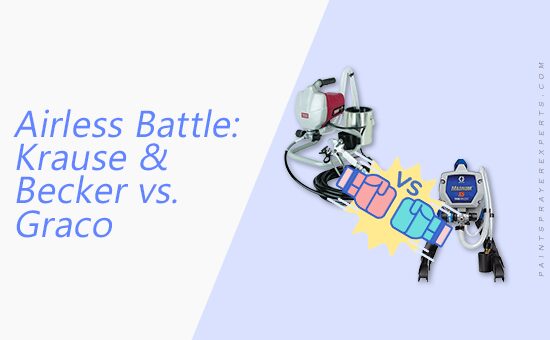 Krause & Becker may not be a popular name in the airless paint industry, but certainly has a wide array of impressive devices and tools under its brand.
For today's comparison, we've chosen one of the most popular brands: Graco, a company that boasts of numerous best-selling products and always on the top of everyone's list when it comes to spray-painting.
As much as it affects our brains, a brand's popularity should not be the only factor by which you base your decisions.
If you're searching for a good airless paint sprayer but you're unsure which brand to choose between Krause and Becker and Graco, the decision is far too complex and important to go based on popularity alone.
To answer some of your questions and to give you a better idea about these two brands, we've chosen two airless paint sprayers to compare.
We provide an in-depth analysis below of both brands individually, and a side by side comparison.
Let's go!
Graco
Graco needs no introduction. Needless to say, Graco airless paint sprayers are some of the best paint devices available on the market today.
I doubt there is a spray painter out there, amateur or professional, that doesn't know at least one paint sprayer made by this brand. Certainly, the guys there at Graco must be doing something right.
But what exactly makes Graco paint sprayers so popular?
Well, when a company is so popular, it usually is due to a long history of success, a wide range of high-quality products to choose from, or good value for money products. In the Graco's case, it's a mix of all three factors.
With Graco, you're guaranteed to get paint sprayers with remarkable quality in terms of design, efficiency, versatility, and variety.
Their products are also highly ergonomic and suitable for both professionals and beginners alike.
Graco Airless Paint Sprayers
Graco classifies its paint sprayers into three categories, called "series".
DIY Series: Suited for DIY homeowners and beginners looking for an alternative to their brushes and rollers.
Project Series: Suited for DIY homeowners undertaking midsize projects.
PRO Series: The perfect choice for professionals and contractors undertaking large and frequent projects.
From the DIY Series, the TrueCoat 360 TrueAirless Sprayer is probably the most recognizable. If you're at your first steps of spray painting, the TrueCoat 360 is a no-brainer.
The Project Series is probably the most popular of their line, with the Magnum X5 Electric TrueAirless Sprayer (which we will be comparing below) being a favorite among amateurs and professionals alike.
The Magnum X7, it's successor, is rapidly gaining popularity, thanks to its many feature improvements.
Graco's high-end line, the Pro Series, surely isn't for everyone, but its Magnum ProX sprayers (Magnum ProX17 and Magnum ProX19 TrueAirless Sprayer)are a guarantee for everyone planning to spray more than 500 gallons of paint per year.
Krause & Becker
Krause and Becker is not a brand per se, but it's one of many brands owned by tools giant Harbor Freight. Now it starts making more sense, right?
Harbor Freight's motto is: "Quality Tools – Lowest Prices".
We can't guarantee that every product sold by Harbor Freight is of high quality because they have many categories other than spray painting that we can't give an accurate opinion about, but they certainly have some of the lowest prices on the market.
Krause and Becker Airless Paint Sprayer
As of the time of this post, we could find only one airless paint sprayer made by Krause and Becker.
You can find it labeled as "Krause & Becker Airless Paint Sprayer Kit", "Krause & Becker 5/8 Horsepower Airless Paint Sprayer", or "Krause & Becker 5/8 HP 3000 PSI Airless Paint Sprayer Kit".
We had to mention all the name variants because some websites are "reviewing" all three of them as different products, and that might confuse you.
You should stay away from such sites because they probably never seen a paint sprayer in real life.
Krause and Becker Airless Paint Sprayer Kit vs Graco Magnum X5 (262800 / 262805) Airless Paint Sprayer
For a fair comparison between a Harbor Freight paint sprayer vs Graco paint sprayers, we've chosen the most similar airless paint sprayer from Graco, to compare it to Krause & Becker Sprayer, which happens to be one of the most popular ones: Graco Magnum X5.
Build quality
The Graco Magnum X5 has a stainless steel piston pump, ensuring a good lifespan and better performance.
The Krause and Becker Airless Paint Sprayer also has a stainless steel piston pump, so no difference here.
Both sprayers are made of relatively durable parts, mostly stainless steel.
For the build quality, it's a tie.
Power
Graco Magnum X5 is powered by a 1/2 horsepower motor, which can achieve 3000 PSI of pressure. In our opinion, a 3000 PSI of pressure is more than enough for any DIY home improvement project.
With a Magnum X5, you can spray about 16.2 gallons of paint per hour (0.27 gallons per minute).
Krause and Becker Airless Paint Sprayer, on the other hand, is powered by a 5/8 horsepower motor which can generate a maximum of 3000 PSI of pressure.
Compared to the Magnum X5, it can spray more paint material, which in its case is approximately 18.6 gallons per hour (0.31 gallons per minute).
Again, the differences here are so subtle, that it's hard to pick out a clear winner. For us, it's a tie.
Ease of use
For both products, you can find the respective user manuals with quick instructions, so starting them up should be fairly easy.
Moreover, both products are made for DIY homeowners, so none of them should be too hard to operate.
Again, a tie.
Performance
For the price you're paying, both paint sprayers perform very well, with some minor drawbacks here and there.
For example, the Graco Magnum X5 falls short when it comes to unthinned materials or heavy coatings. Keep that in mind if you're going to use thick coatings. You don't want to get your sprayer clogged because it will inevitably reduce its lifespan.
The Krause and Becker Airless Paint Sprayer, on the other hand, is known for over spraying. Even though almost every airless paint sprayer makes it hard to control oversprays, this sprayer is somehow worse than many other models.
FYI: We had a rough time painting indoors with the Krause and Becker sprayer.
Performance-wise, the Graco Magnum X5 had a slight edge over the Krause and Becker Airless Paint Sprayer.
Cleaning
You must clean your device after each painting job, so a paint sprayer must offer a fast and easy cleaning process.
Both sprayers were extremely easy to clean, but the Graco Magnum X5 has gone a step further, implementing a PowerFlush adapter, allowing to connect the device to a garden hose for fast and easy cleaning.
Kudos to that!
Price point
Because both airless paint sprayers are mid-range devices, we don't see a huge difference in price, but still, the difference is there.
This is where the guys at Krause and Becker kept their promise, delivering a quality tool at a lower price than their competitors.
Good job Harbor Freight, good job indeed!
Conclusion
To sum everything up, the two airless paint sprayers we just compared are very similar to each other. So much so, that there's absolutely no reason owning both.
If you're going to be using thicker coatings, Krause and Becker Airless Paint Sprayer is your safest bet.
If you plan on painting indoors, go for the Graco Magnum X5.
Even though not for much, there is a difference in the price point, so keep that in mind. The Magnum X5 might be a slightly better performer, but the Krause and Becker sprayer is cheaper.
This was all for today's comparison on the Harbor Freight paint sprayer vs Graco Magnum X5. Make sure to read again the differences between the two sprayers above, to have a clear-cut idea on which product to buy.