Using a paint sprayer is a great choice when you're planning to paint large surfaces because it gets the job done much faster than traditional brushes or rollers.
When we want to paint indoor surfaces, such as walls or ceilings, we're talking about particularly large surfaces, where painting can be time-consuming, exhausting, and complicated.
This is where a paint sprayer comes in handy, which, if used correctly, can be a lifesaver.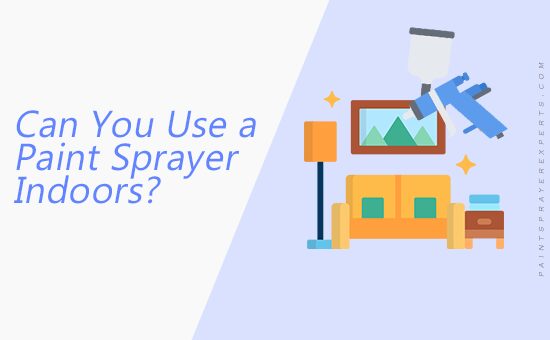 What you need to know before using a paint sprayer indoors
Hold your horses a minute, will you, and please read this whole article till the end, because there are a couple of things you should know before getting the job started.
If you don't take proper precautions, you'll inevitably end up making a big mess.
No matter how vigilant you are, a paint sprayer will unavoidably create a paint mist that will cover every unprotected surface. If you don't take proper care (read below), you will risk ruining your valuable belongings.
It's utterly important to take safety measures
Exposure to paint and paint fumes can be potentially harmful if handled the wrong way or used without precautions.1
Make sure to always take proper safety measures (read below) before starting painting.
Tips for spray painting indoors
Now that you know the risks, let's pass straight to the rules. Follow the below tips for a clean and safe paint job even inside your apartment.
Room preparation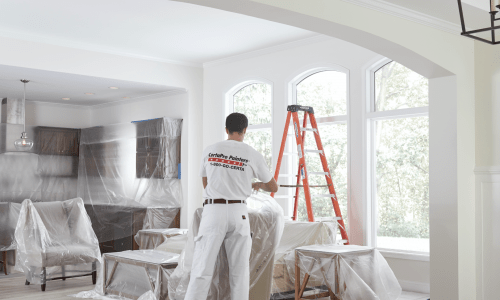 The ideal is to have an empty room to not risk painting your furniture. If you can't move everything out of the room, at least move your belongings far from the walls and cover them with masking film.
Cover the floor with a drop cloth and tape it down at the edges. It will protect your floor from paint stains.
Also, don't forget to cover the windows and doors with plastic sheets and tape them around the edges.
If you're going to paint the ceiling, cover the droplights and ceiling fans with plastic bags and tape them off where they meet the ceiling.
Protect yourself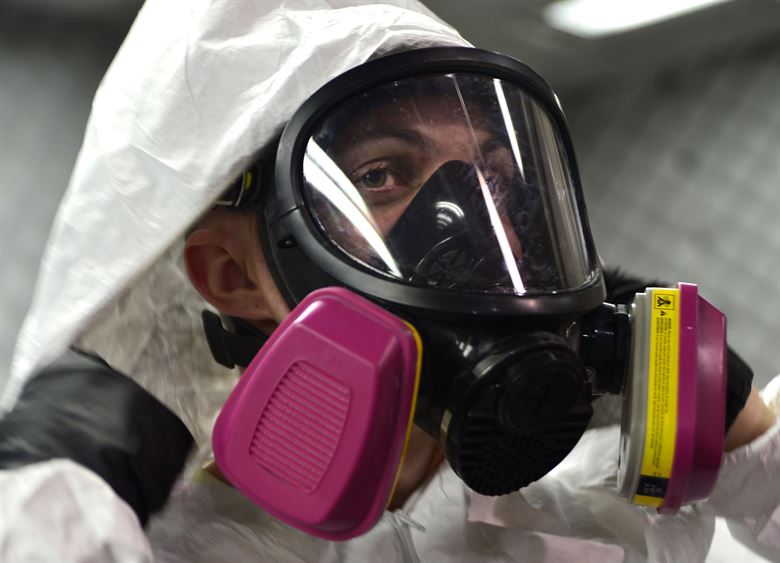 One thing is for sure: if you paint, you will get stains. There's only one thing you can do about that: wear old clothes, so you can just throw them off or reuse them if you're going to paint again soon.
More often than not, paint stains end up even on your hair and your face, so it's advisable to wear a hat and a pair of safety goggles.
Very Important: Always wear a paint mask or a paint respirator.
A paint mask is mandatory for your health and safety. Spray painting releases harmful particles into the air that can be extremely dangerous if inhaled.
Paint respirators are the best choice without a shadow of a doubt, but oftentimes a simple dust mask can be effective to protect you from harmful chemicals.
Before you begin painting, leave a window uncovered and open it for the air to circulate. Leaving a window open will reduce your exposure to paint chemicals.
Conclusion
So the bottom line is this: You can use a paint sprayer indoors. You still need to make sure you're taking all the necessary precautions to provide the best protection for yourself and your furniture.
Don't be afraid to use a paint sprayer indoors. It will save you a ton of time and with a little practice, you'll achieve a perfectly smooth finish that you wouldn't otherwise achieve with a brush or a roller.